Jean Galbraith and friends: A shared passion for nature
Jean Galbraith and Friends is an exhibition on the life and work of one of Australia's best-known nature writers, Jean Galbraith, and her place in the history of Victoria's Gippsland. It speaks of how Australians came to appreciate native plants, in the wild and in their gardens.
Jean Galbraith (1906–1999) often wrote under the pen-name 'Correa' (after a flowering plant sometimes called 'Christmas bush' because its red-and-green bell-shaped flowers appear in December). The Correa is also the floral emblem of the Field Naturalists Club of Victoria, of which Galbraith was a prominent member. Her first column about native plants appeared in the new journal, Garden Lover, in 1926. Her last article, also about Australian plants, appeared in 1995 when she was 89 years old. Her much-loved 1939 book, Garden in a Valley, was republished in 1985 as part of renewed interest in her life and her collections. Thus her writing – and her readership – spanned most of the 20th century. Many of her fans began reading her columns as children and continued to follow her writings as adults.
It is particularly appropriate that the exhibition has been held at the Latrobe Regional Gallery in Gippsland where Galbraith cultivated her famous garden in the Tyers Valley.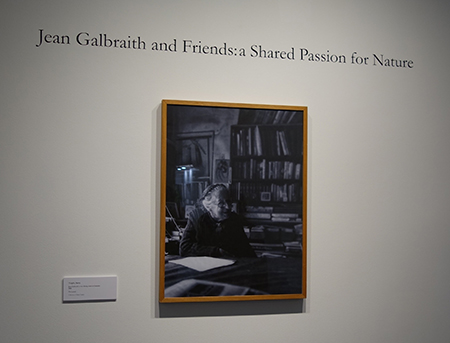 The exhibition, curated by Shelley McDermott and Meredith Fletcher, was developed in parallel with Fletcher's new biography, Jean Galbraith: Writer in a Valley (Monash University Publishing). The Jean Galbraith collection, held at the State Library of Victoria, is rich in manuscript and archival material, including artworks that complement Galbraith's writing about Australian plants and garden aesthetics. The collection of diaries, manuscripts, correspondence, artworks and other objects was established in the 1980s, when Galbraith contacted the State Library of Victoria. The National Museum of Australia also has a small collection of Galbraith's camping and bushwalking objects, which it acquired in the 1990s.
Galbraith was an enthusiastic promoter of Australian plants, and introduced them to many readers. Her first writings, aimed at domestic gardeners, date from a time when the idea of Australian garden plants was quite new. She also wrote regularly about wildflowers for naturalists and members of the Field Naturalists Club of Victoria. Many of her articles found their way into school papers and children's columns in newspapers and magazines. Her best-known books were the field guides (the 'glovebox Bible'), Wildflowers of Victoria (1950), and her later Field Guide to the Wildflowers of South-Eastern Australia (1977). A Garden in a Valley remained a firm favourite. Many of her columns were serialised and published as collected volumes. Annotated manuscripts of these and other publications feature in this collection and exhibition.
Galbraith's 'garden in a valley' at her home, 'Dunedin', in Tyers was, throughout her long and productive lifetime, a mecca for those interested in botany, gardening and nature writing. The garden itself is an archival source, and has been 'collected' in the correspondence and manuscript material. Galbraith curated her own papers carefully, and drew on them for contributions to magazines, books and newspapers. They have all informed Fletcher's research.
Translating such a collection into an exhibition required imagination. The gallery space is quite simple, just three central cases and the surrounding walls. The cases feature treasures from the manuscript material, including illustrated notebooks, annotated manuscripts and diaries of botanising trips, and also first editions of Galbraith's published works. The walls carry photographs and artworks. The charm of Jean Galbraith and Friends is in the small homely objects tucked into the cases, and the little stories that capture the aspirations of 'fans', and tell something of what Galbraith's garden and her writing meant to them.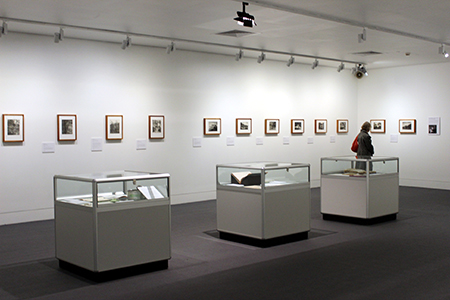 The garden comes to us through the eyes of young visitors in the form of a stainless-steel biscuit tin. The tin is open, revealing the rules of a game invented by Galbraith called 'Under sealed orders', as remembered by her nephew Peter Galbraith. The game created a treasure trail of tasks and rewards that occupied visiting children, including Peter, who became agents in his aunt's secret service. Like spies, they received their instructions as 'sealed orders'. The game would begin: 'Sweep the leaves on the western path for 10 minutes – then take 2 biscuits from the tin'. While eating the biscuits they would discover in the tin another instruction: 'Look in the hollow log under the oak tree', and from there follow a trail that teased their navigational skills (the western path, the oak tree), and honed their observation of nature. The trail guided them in, out and around her wild and intriguing garden, and ensured that Aunt Jean was free to get on with her writing all morning. The mischief and humour of Galbraith are captured in that biscuit tin.
Another case included a scrapbook of Galbraith's Age newspaper articles. Such an object tells us about how Jean Galbraith was read and 'collected', complementing the more traditional manuscripts and published works.
The artworks on the walls provide another opportunity to showcase Galbraith's writing. Along with storyboards about the significance of the artworks, many are accompanied by captions written by Galbraith at the time. One wall was devoted to the paintings of Betty Conabere (1929–2009), a botanical artist who camped at Galbraith's house in the early 1970s. There she drew flowers from Galbraith's garden as illustrations for Wildflowers of South-Eastern Australia, written with J Ros Garnet and first published in 1974. Jean and Betty also spent a week together at Wilsons Promontory in 1970 while Conabere was painting flowers. In the diary that Galbraith lodged with the State Library of Victoria, she records Conabere working through the daylight hours to paint the coastal wildflowers, while Galbraith herself wrote in the mornings then went walking to select and collect wildflowers to be painted for Conabere's book, one flower each day.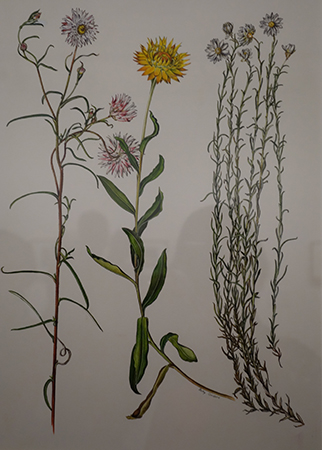 For me the most unexpected objects in the exhibition are the photographs and unpublished manuscript for a book titled 'Australia: The harvest of the quiet eye'. This was to feature the photographs of the now well-known garden designer Edna Walling, with elegant captions crafted by Galbraith. Publishers in the 1960s regarded Walling's black-and-white images as 'old fashioned' and were not persuaded by her plea that her choice of arresting images had the power of 'striking light' and that they were 'more beautiful in black and white than they could ever be in colour'. These rediscovered photographs and their Galbraith captions occupy a whole wall of the gallery. Walling is far better known today than Galbraith. This exhibition reminds the viewer of the support networks and collaborations that were significant at a time when Walling was making her name.
The exhibition and the complementary biography, Jean Galbraith: Writer in a Valley, benefit both from deep scholarship and from Fletcher's (and Galbraith's) sense of fun. The exhibition also has a serious edge. Galbraith's life was important because it was so much about discovering indigenous Australian plants through walking, camping, gardening and writing about nature, rather than by formal science. Her positive spirit encouraged her readers, young and old, to use their personal experiences in understanding plants, animals and fungi. Wildflower protection and conservation emerged, Galbraith believed, from a personal knowledge and wonder in the natural world. Her garden celebrated and recreated the beauty of wild nature. For Jean Galbraith, the garden was a place of creative learning; and the bush, nature's garden, was the model for her own garden philosophy.
Libby Robin is a senior research fellow in the National Museum of Australia's Research Centre. She is also professor of environmental history at the Australian National University, and guest professor at the Royal Institute of Technology (KTH), Stockholm.