Toys through time: From peg dolls to spacemen

This delightful exhibition of toys belonging to several generations of Sydneysiders since settlement situates them within carefully researched stories of Sydney's famed toymakers and sellers, and devoted collectors. Beautifully designed, as most Museum of Sydney exhibitions are, the walls are painted in bright tones of yellow, pink and blue to attract young, eager and excited eyes. The exhibition is partitioned into three sections, roughly covering the 19th and 20th centuries and a small children's play area, and visitors are encouraged to follow a directional display.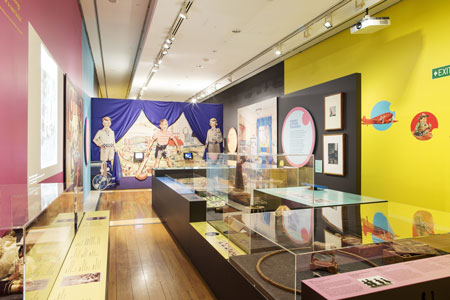 The first section contains four themes: 'Wild colonial toys', 'Play to learn', 'Teddies and other treasures' and 'A paradise of toys'. ' Wild colonial toys' was dominated by a large portrait of early Sydney resident Mary Ann Piper and her many children, posed with a variety of their toys, that towered over visitors as they moved between the diverse displays of 19th-century toys on show. The first object that struck my eye was a very early 19th-century wooden peg doll from the collection of Museum Victoria, and owned by English immigrant Mary Spencer – one of the oldest of the provenanced dolls that survive in Australia. The doll lies among a display of other precious colonial dolls, including 'Charlotte', a prized collection item in the possession of Sydney Living Museums. The walls of this section were adorned with toy advertisements from early copies of the Sydney Gazette.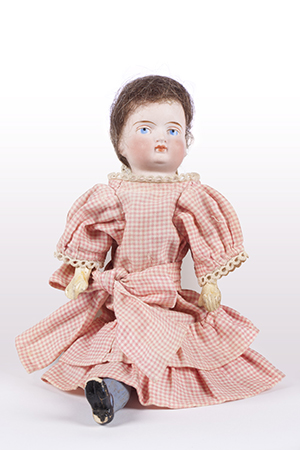 The 'Play to learn' section reveals some of the educational toys enjoyed by colonial Australian children, including alphabet blocks owned by the children of colonial free settler Richard Rouse and his wife, Elizabeth, together with their prized dolls, doll's house furniture and dolls' clothes, which were carefully displayed under glass.
The variety of colonial toys is displayed at a low level appropriate for small children to view. Protected by vitrines, visitors could see rattles, pull-along toys and toy fragments belonging to children from a variety of social classes. These include toys found under the floorboards at Hyde Park Barracks that were probably owned by the 14 children of Lucy Hicks, matron of the Female Immigration Depot. Her large family lived on the second floor of the asylum on Macquarie Street, where several toys, including fragments from a miniature tea set, were discovered during archaeological excavations.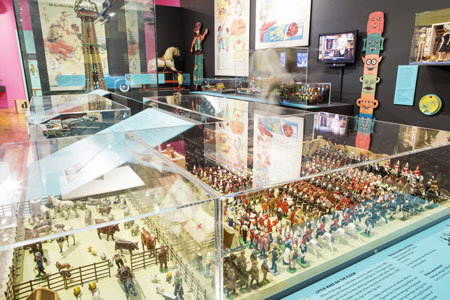 The low glass cabinets also display a variety of parlour games, mostly consisting of games of chance, including 'Race to the gold diggings' (Powerhouse Museum), historical lotto, spillikins (1820) and squails (about 1870). These last two were borrowed from Sydney Living Museums staff member Megan Martin. Clearly Martin's house is where you head if you want to participate in colonial Australian games.
In this room I adored the imaginative and evocative visual display of photographs of children and their toys drawn from varied collections, including the State Library of Victoria's Edna Walling Collection, Arthur Allen's collection from the State Library of New South Wales, and valuable photos from the State Library of Victoria's Ruth Hollick Collection. Projected onto the wall are children posed with their dolls, toy carts, prams, teddy bears, doll's houses, spinning tops and rocking horses. I enjoyed the way in which the viewer was invited to zoom in to explore the images in detail, but I would have liked to read more on the subjects and their photographers. Perhaps more information might have been provided on the website that accompanied the exhibition?
In this section we also learn how Germany was the centre of the toy industry until the First World War, and the ways in which toys reflect rapid changes in technology, industry and materials. Importation of toys from Germany, France, England and the United States declined during the 1914–18 war. When imports ceased from Germany, local producers were given the opportunity to develop their nascent industry and to spread their productive wings. Early 20th-century toy sellers used bright colours to sell their wares and, during the 1920s, Christmas displays became common and Australian families were more likely to make a ritual of visiting toy stores at this time. Another attractive audiovisual display is a map showing the toy sellers of inner-city Sydney.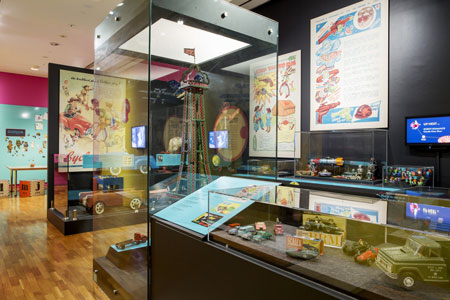 The second section of the exhibition covers the 20th century and describes the growth in the numbers of toys owned by children from the 1960s onwards. On display was a melee of small, medium and large toys, which was represented as the many and varied contents of a Baby Boomer's toy box. We learned about the impact of the American Wild West on the imaginations of Australian children and the toys from varied international contexts that were welcomed in Australian homes. These included Paddington Bear, Shirley Temple, Buck Rogers, Mickey Mouse and the homegrown Felix the Cat, who emerged from the pen of a Sydney-born cartoonist who found his fame in the United States. Dolls feature again in this section with a small wall cabinet of Barbie dolls and another large cabinet of homemade, makeshift toys.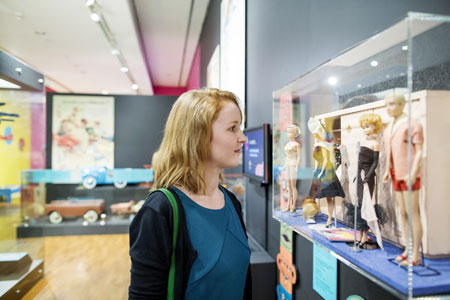 In this section I was intrigued by a short film displayed on a small screen that reveals the history of Sydney's famous Doll Hospital in Bexley North. The hospital's nurses, doctors and head surgeon, Geoff Chapman, are the narrators. Chapman's family has owned the hospital, which was established by his grandfather in 1913, for more than 100 years. Thousands of dolls and their parts are kept in tea chests in the hospital and Chapman knows where everything is, despite the chaos that greets the casual viewer. We are informed that demand for the hospital's services was strongest during the Second World War, when most children only had one, well-loved doll. Rationing and the focus on the re-use of materials brought dolls into the hospital to be stitched back together and repaired. After the war, the hospital also experimented with doll-making and constructed their famous three-faced doll. Chapman worries about how contemporary Australian children receive a new doll 'every time they go to the supermarket' and he laments children's lack of affection for their old dolls. The film follows the repair of Patsy, given a new lease of life and hair colour before going on display in the cabinet next to the screen on which the film is shown. Produced by Gary Crockett, the film is a delight from beginning to end, and we understand something about the emotional impact of changes in the production and enjoyment of dolls over the past 100 years.
The exhibition gives viewers insight into the emotions of collectors and owners and exposes some of the many and varied meanings of toys for their owners. A display of trains owned by Harley Ferguson since the 1950s and a cabinet containing a 1950s car collection owned by Dr Phillip Norrie will have attracted many enthusiasts. We learn from Claudia Chan Shaw that her eclectic collection of robots enables her to reclaim her childhood with a 'nostalgic kick' and to reminisce about the impact of watching too much television as a child. For her, collecting toys is 'all about the heart'. Part of journalist Barry Divola's collection of tiny plastic toys from cereal boxes, which were manufactured in Melbourne by Rosenhain and Lipmann, was on display; as a self-confessed 'critterholic', he has written about his addiction to the toys in his book Searching for Kingly Critter (2004).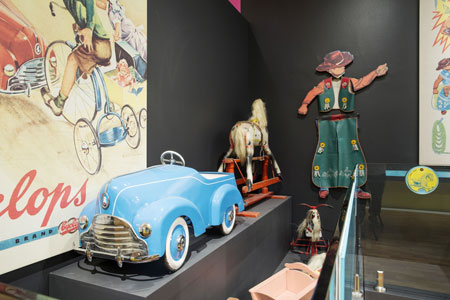 Larger toys are displayed at the exhibition's end, including a rocking horse, horse and cart, pedal car and a miniature Eiffel tower. In the third and final children's play section, small visitors can watch a short film about meccano, play a giant game of snakes and ladders, or construct a wooden train track. If they prefer, they can have a go at a wall-mounted magnetic game of tic tac toe or dress Edwardian paper dolls using designs from between 1908 and 1914. Failing that, the distortion mirror amuses young and old. There is much fun and learning to be enjoyed by all visitors to this entertaining exhibition.
Tanya Evans is a senior lecturer in the Department of Modern History, Politics and International Relations, Macquarie University, where she teaches Australian history and public history.
| | |
| --- | --- |
| Exhibition: | Toys through Time: From Peg Dolls to Spacemen |
| Institution: | Sydney Living Museums |
| Entry fee: | Free |
| Project manager: | Bob Whight |
| Assistant curators: | Alysha Buss and Veronica Kooyman |
| Exhibition design: | Matt Guzowski |
| Graphic design: | Anne-Louise Falson |
| Venue/dates: | Museum of Sydney, 28 March 2015 – 9 August 2015 |
| Exhibition website: | sydneylivingmuseums.com.au/exhibitions/toys |