Darwin

review by Colin Groves
Two men over the course of history have done more than any others to change the way we think of ourselves, and our place in the universe: Copernicus and Darwin. We know little about Nicholas Copernicus, partly because he was self-effacing, and had no support team around him — in fact, he was so scared of what he was about to do that he delayed publishing until he was virtually on his deathbed. We know much more about Charles Darwin because, though he was every bit as self-effacing, he did have a support team. Darwin was well-aware that he was about to turn the world on its head. Though he knew that in all scientific honesty he ought to publish his conclusions, he dragged his feet and kept putting off the awful day until happenstance — in the form of a letter from Alfred Russell Wallace, putting forward almost exactly the same ideas — forced his hand, and his support team would brook no further excuses. Exactly as he had foreseen, the wrath of the religious establishment and comfortable Victorian society descended upon him, but what he had not foreseen was that in all ways that truly mattered the world was in fact ready for the revolution that he engendered.
How to construct an exhibition on a quiet revolutionary? How to recount his life without being hagiographic, yet give some flavour of his achievement?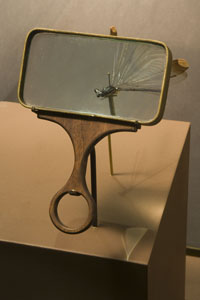 photograph by Jason McCarthy
National Museum of Australia
The National Museum of Australia's
Darwin
exhibition manages this very well. Most of it is on tour from the American Museum of Natural History in New York, and I don't know what it looked like there, but its arrangement in the National Museum is ideal. It takes you approximately through Darwin's history and his ideas, shows you what life was like on the good ship
Beagle
in which he travelled around the world, presents key specimens and facsimiles of key documents (some of them in Darwin's handwriting) and, in an epilogue developed within the National Museum, leads you through Australia as Darwin experienced it, not trying to conceal his ambivalent feelings about the young country. There are a lot of references to him collecting animals, and some of them — the beetles of his undergraduate days and the birds of his
Beagle
trip — are on display. There is no concealing the fact that Darwin did kill things, but this is cunningly counterbalanced by evidence of his gentle side, most effectively by a life-sized mockup of his study at home, including a little dog basket by the fireplace.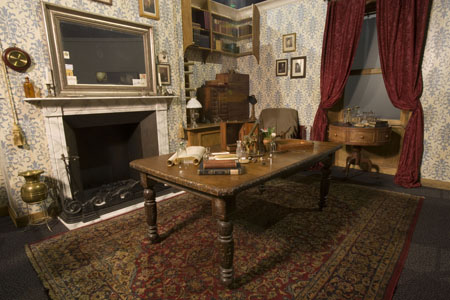 photograph by Jason McCarthy
National Museum of Australia
There are bound to be practical problems in an exhibition like this. One is the sequencing. The visitor, on entering, is immediately faced with the quandary, how to tackle each room: whether to go along one wall, then double back and go along the other, or whether to cross and re-cross the room from wall to wall. This exhibition does its best to help the visitor by breaking the exhibition into a series of blocks, room by room (or space by space, more accurately); the rooms/spaces are sequential, but the exhibits within each one are not, or not severely so. Another practical problem is at what height to place the smaller exhibits, such as the document facsimiles and those requiring detailed labels? Here, the organisers have restricted the scope of these exhibits, and placed them at medium height, so that primary school children do not have to stand on tiptoe and adults do not have to spend long periods bending over uncomfortably; this seems an obvious point, but it is surprising how little thought is given to it in many museums. Another problem that constantly irks me in museums is reflecting glass: I dodge from side to side, trying to find an angle at which I can see the display behind the glass without it being obscured by light from the exhibit opposite. The Darwin display avoids, or at least minimises, this by not having large glass-fronted panels opposite each other.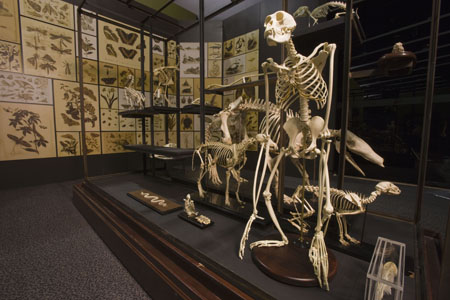 photograph by Jason McCarthy
National Museum of Australia
I spent hours at the Darwin exhibition. I pored minutely over the beetles, and the manuscripts and letters with all those crossings-out; I smiled at the live iguana, and he smiled back; I happily ogled one of the few representations of human evolution I have seen which I could more or less agree with; and I thought the Australian section made an informative (and sobering) postscript.
Colin Groves is professor of bioanthropology at The Australian National University.

Exhibition:
Darwin
Institution:
National Museum of Australia
Curatorial team:
American Museum of Natural History, New York in collaboration with the Museum of Science, Boston; The Field Museum, Chicago; Royal Ontario Museum, Toronto; and the Natural History Museum, London
Exhibition space:
730 square metres
Venue/dates:
National Museum of Australia, Canberra, 10 December 2008 – 29 March 2009
Companion exhibition:
Darwin and Australia
Institution:
National Museum of Australia
Curatorial team:
Mike Pickering, Ian Coates, and Christine Hansen
Exhibition space:
100 square metres
Venue/dates:
National Museum of Australia, Canberra, 10 December 2008 – 29 March 2009

Publication:

Charles Darwin: An Australian Selection, National Museum of Australia Press, 2008. RRP $29.95