Harry Potter
The exhibition
review by Ann Curthoys
When reCollections asked me to review this exhibition, I was pleased to be able to say yes. I enjoyed the Harry Potter novels, so much so that I wrote about them in an essay on Harry Potter and historical consciousness for History Australia.[1] In that essay I argued that the Harry Potter series is interesting for historians, not only in the historical allusions — medieval, Victorian, Nazi period, and much else — but also in the attention paid to the necessity of understanding the past in order to act in the present. Again and again, the structure of the narrative takes the characters back into the past that they may understand better their enemies, and their friends. When I went to this exhibition at the Powerhouse museum, I did not realise how much it was about the movies rather than the books. I wanted to keep my mind completely open, so didn't read up much beforehand. In fact, I quite like the movies, but I much prefer the novels, as more complex in their characterisation, fantasy world, moral dilemmas, and multiple allusions. To my mind, the secret of the appeal of the books is that they communicate on several levels: to children of various ages, and to adults, whereas the films communicate mainly to children and, especially, teenagers.
The exhibition at the Powerhouse has been enormously popular. You book tickets ahead for strictly prescribed times. I booked for 6.30 pm on 30 December, and had to arrive at 6, and then shuffle forward in the queue from 6 to 6.30. The crowd was interesting: very mixed, predominantly young adults between about 18 and 30, but also plenty of families with young children plus a sprinkling of older people like me; people were also from varied ethnic backgrounds. When finally allowed into the inner waiting area, you could get your photograph taken (to be picked up later for $19.95, or $39.95 with leather frame). The next room was really for the children, where several could sit on a chair and be sorted by the Sorting Hat into Hogwarts school houses. (They all, unsurprisingly, said they would like to be in Gryffindor, Harry Potter's house, and in each case, as if by magic, the Sorting Hat obliged.) The children came from all over the place, from Melbourne, Brisbane, and Sydney, partly a result of it being school holidays. But perhaps the exhibition itself, which will not appear elsewhere in Australia, had been part of Sydney's attraction. Next was a room full of illuminated movie posters and then, finally, the exhibition proper.
What a disappointment it was. The exhibition was based purely on movie costumes and props. Its organisation was hard to discern. There was no attention to the narrative structure of the books, nor was it organised by theme or character. There were displays, each with an eclectic mix of objects, ranging from wands to school uniforms. There was a section focused on quidditch, the aerial ballgame that features in the novels and films, but that was as close to thematic organisation as I could see. At first I used the audio guide, but soon abandoned it as useless, mainly comprising interviews with those involved in the production of the films about how they made particular costumes or props, like the Marauders' Map. I was interested in the newspaper notices seeking information on Harry Potter as an outlaw, and the forms put out by the Muggle Born Registration Commission, as these had featured in my own thinking about the historical allusions in Harry Potter, but the exhibition did nothing to interpret or illuminate or contextualise them.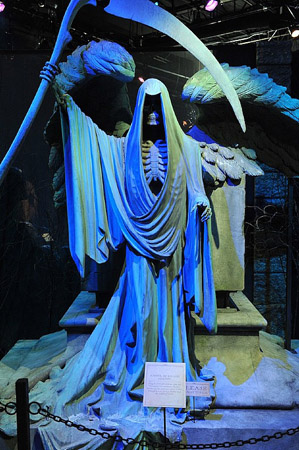 There was, however, little else of interest. Finally, after trudging around display after display of clothes and props, you are finally propelled out into the shop, where you can buy — guess what! — Harry Potter inspired clothes and props of your own. I bought a catalogue (exorbitantly priced at $25), which I had not seen any time previously during the exhibition. It was not meant to assist you in looking at the exhibition, and was just a memento to be purchased afterwards. Reading it later, I learnt very little, apart from a few quotes from the filmmakers about casting, the importance of the wands and so forth.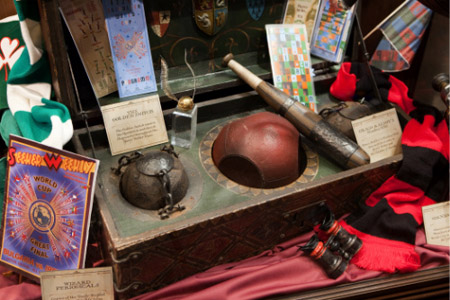 Thinking about the exhibition later, it struck me just how much wasn't there. There was nothing in it for the adults, no interpretation or contextual information. Exhibitions aimed primarily at children don't have to be boring for adults, as Powerhouse exhibitions in the past (like one on circuses I saw in the 1990s) have clearly demonstrated. They just need to have several levels of presentation and interpretation. There was nothing here, for example, on the novels. Nothing about JK Rowling and how she came to write her books, nothing about their huge international readership, and no mention of the worldwide excitement that accompanied the appearance of each publication. There was no examination, that is to say, of the Potter films and books as a popular culture phenomenon, a sign of our own times. Because of the chaotic organisation, there was no illumination of the narrative of the books and films, no sense of the development of character as a group of young people grow from the age of 11 to 18, that is, of the move from childhood to young adulthood. The captions were uninformative, relying on the undoubtedly extensive knowledge of the audience. I overheard a child of no more than three ask to be taken to see the elves.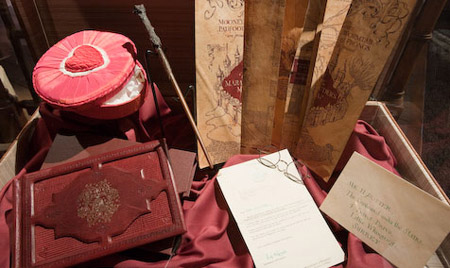 The exhibition, the almost useless catalogue tells us, was produced by Global Experience Specialists, who give special thanks to Warner Bros Consumer Products. It has been shown at five venues in North America, before coming to Australia. As an imported exhibition, there was nothing in it or around it to indicate its current Australian location. In her review in this journal of the 2010 Titanic exhibition at the Melbourne Museum, Andrea Witcomb complained that, given it was a 'package blockbuster', Melbourne Museum staff had been unable to add local value, being limited to two panels 'situating the disaster in time by giving an impression of Melbourne in 1912'. In the Harry Potter exhibition, the Powerhouse provided nothing at all. There would have been considerable scope to do so. The Potter novels have been enormously popular in this country, leading to all kinds of activities as each new volume was released, such as the trains (variously called the Gleewarts Express and the Hogsmead Express) that the well-known independent bookshop, Gleebooks, organised to the Blue Mountains (in 2003 it involved almost 800 people, and appeared on ABC TV). There are presumably contractual reasons for this lack of local content, but it's disappointing for museum viewers.
The exhibition was also expensive. There have been letters in the Sydney Morning Herald complaining about the cost not only of tickets but also of the items in the shop — the high cost of the wands, clothes, and other items. For me, the whole disappointing and, frankly, boring visit cost over $60 ($28 off-peak ticket, $7.50 audio guide, $25 catalogue). While it was pleasing to see a public cultural institution like the Powerhouse attract visitors and make money that might be used to fund more exciting projects, perhaps it was at the expense of its reputation. With an unimaginative derivative exhibition that has been widely perceived as a commercial rip-off, the Powerhouse has let itself down.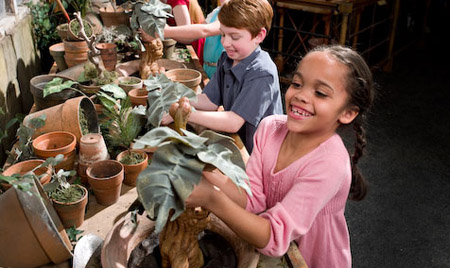 The main value for me of attending this exhibition was that it prompted me to think further about what a museum exhibition should do; what I, as a reasonably literate museum-goer, want to see when I visit museums, as I frequently do. I want an exhibition to provide information, stimulate ideas, and use its unique combination of material objects, pictorial, aural, and textual representation, and physical space to prompt me to think about its subject in new ways. In this case, I would like to have known more about JK Rowling; as a young single mother living in Edinburgh writing such massively popular books — she is an interesting and intriguing figure. I'd also like to have known more about the reception of the books and movies around the world, their impact on children's reading habits, and why they have been so popular with adults as well. How have the books been used in schools? How have the movies been received worldwide? Have they been popular in China, or India, or Brazil?
I also want a museum exhibition to excite my imagination. I wanted this particular exhibition, using the possibilities of its multimedia form, to do something analogous to what the novels did so well: create complex, quirky, amusing, and strong characters, track adolescent development, and have fun with magical possibilities and fantasy. This exhibition, with its unimaginative display of a limited set of movie artefacts, was decidedly unmagical.
Ann Curthoys is an Australian Research Council professorial fellow at the University of Sydney. She is author (with John Docker) of Is History Fiction?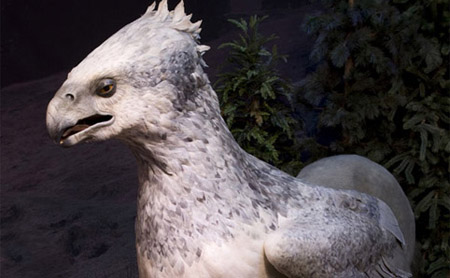 | | |
| --- | --- |
| Exhibition: | Harry Potter: The Exhibition |
| Institution: | GES (Global Experience Specialists) in partnership with Warner Bros Consumer Products |
| Floor space: | 1400 square metres |
| Venue/dates: | Powerhouse Museum, 19 November 2011 – 18 March 2012 |