Wallace: The rEvolutionary man
This exhibition at the Museum and Art Gallery of the Northern Territory (MAGNT) in Darwin celebrates the life and work of Alfred Russel Wallace in the centenary year of his death (he died on 7 November 1913). Wallace is famous for having developed a theory of evolution entirely independently of Charles Darwin, yet it is usually Darwin who receives the credit for what was then a revolutionary theory. Wallace greatly admired Darwin and appears to have been happy for his older colleague to get all the kudos. Ironically, the north Australian city named after Charles Darwin lies immediately adjacent to the area of eastern Indonesia where Wallace did so much of his work.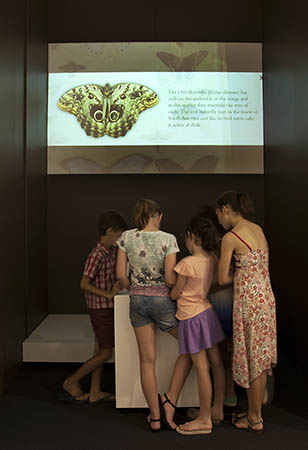 Darwin himself had never been to northern Australia, although he had visited some southern parts of the continent in 1836 on the last leg of his long voyage aboard HMS Beagle. He did not, however, conduct any major work there and his connections to Australia are slight. For these reasons there were objections when it was suggested in 1980 that a proposed university for Darwin be named the Charles Darwin University. The resulting institution was instead called the Northern Territory University, but, following some restructuring in 2004, Charles Darwin's name was finally applied, a decision that still rankles with some. While discussing the Wallace exhibition a university colleague said to me, 'Wouldn't it have been great if the university had been named the Alfred Russel Wallace University instead?' The person who made the remark was not a biologist or otherwise involved in the natural sciences, but was simply interested in our region and its history.
Many people in Darwin have connections with Indonesia or Malaysia. Alfred Wallace is a popular figure here because he wrote one of the greatest travel books on the region ever published. Wallace's The Malay Archipelago first appeared in 1869 and has remained in print ever since. The book reveals the ever-curious Wallace as an explorer and adventurer. While Wallace's aim was to collect natural science specimens he also gave great attention to the people who lived in the places he travelled. His observations make him one of the earliest ethnographers. He also described in detail items of material culture. We are told in one of the interpretative panels at the exhibition that Wallace was one of the first Europeans to describe Indonesian methods of wooden boat construction — a matter of particular interest for some MAGNT staff, as the museum has a substantial collection of Indonesian wooden boats. Wallace's account of his journeys has inspired many to follow his tracks; perhaps most famous is the case of brothers Lawrence and Lorne Blair, who spent much of the 1970s and 80s in Indonesia, and recreated one of Wallace's journeys for their documentary series and book Ring of Fire. Travelling from Sulawesi to the islands off New Guinea, the vessel the brothers sailed in was almost identical to the one used by Wallace over a century earlier.
While MAGNT possesses a large array of material relating to Wallace, it has augmented its collections with items borrowed from other institutions and individuals to create a most engaging exhibition. Some of these items come from the personal collection of Tom and Tessa Pauling. Tom Pauling AO QC is a well-known figure in Darwin. The former Northern Territory solicitor-general, who later became the Administrator of the Northern Territory, is also a gifted amateur thespian, having appeared in more than 40 theatrical productions since he arrived in Darwin in 1970. Pauling puts in a sterling performance in a video to introduce and explain the exhibition, located near the entry and alongside a collection of photographs of Alfred Wallace. From Pauling we learn that Wallace's family struggled financially and that he had to leave school before he turned 14. He had a range of jobs, including field surveyor, which increased his interest in the natural world. The self-taught Wallace decided the best way to finance his studies in natural science was to collect specimens to sell to museums and private collectors, always keeping one specimen for his own collection. His first serious collecting venture ended disastrously: returning to England after four years collecting in the Amazon region, his ship caught fire and sank and Wallace's collections were lost. After a harrowing trip in an open boat, he vowed that he would never sail the seas again. But back in England, and financially insolvent, he decided that he had to go collecting once again. He realised that almost no work had been carried out in the area he called the Malay Archipelago, which stretches from modern-day peninsular Malaysia, through Indonesia, to the island of New Guinea. It was an inspired choice because, during his travels in the region from 1854 to 1862, he identified about 1000 new species and found ample material to help him develop his theory of natural selection.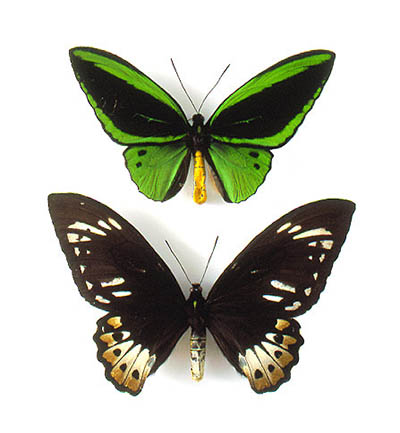 Having absorbed this brief introduction to Wallace's life, the visitor is well-placed to view the rest of the exhibition, which includes an early edition of The Malay Archipelago and selections from some of Wallace's most important scientific papers (during his lifetime, Wallace published 22 books and 747 articles). In one of the exhibition cases we find an example of the type of gun with which Wallace shot some of the bird and mammal specimens he collected, along with gunpowder pouches and balls. Nearby is a case showing how specimens were prepared, including some of the original tags, bearing his name, that Wallace used. There are then a number of specimens of the types of birds and mammals that he collected. A video on a large screen shows a number of different types of birds of paradise from the region. Another screen shows a series of photographs of an orang-utan and its baby, demonstrating the human qualities that Wallace argued the animal possessed.
We learn from interpretive panels that Wallace, with his discovery of what was later called the 'Wallace Line', was the first bio-geographer. Wallace had noticed that birds on the island of Bali were similar to those of all the islands to the west of it. But, on neighbouring Lombok and all the islands to the east, the birds were similar to those in Australia. Wallace later concluded that this was true for mammals as well. The islands of eastern Indonesia are known to bio-geographers today as 'Wallacea'. One of Wallace's great passions was beetles; 40 species have been named in his honour. He also collected moths and butterflies, and several impressive specimens are on display, including the one that Wallace said was so beautiful that when he caught one for the first time he almost fainted and had a headache for the rest of the day. It was through his study of insects that Wallace arrived at his theory of protective mimicry, which Charles Darwin later told him was extraordinary.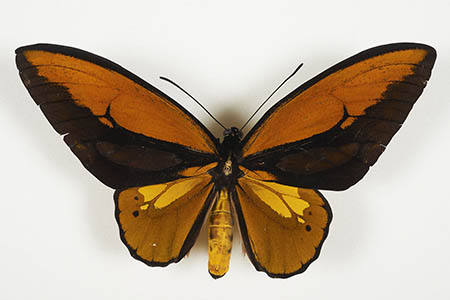 One of the most impressive items in the exhibition is Wallace's cabinet, of the kind widely used at the time to display natural science collections. It had been thought that Wallace's cabinet had been lost until it surfaced in 1964 at a lost baggage auction in the United States. It appears here as a virtual exhibition: each drawer has been photographed and, in an ingenious interactive display, the drawers can be 'opened' one at a time and their contents displayed on a screen. It is possible to zoom in on several of the items and also read more about their significance. It is a pity that more information about this cabinet's remarkable provenance is not provided at the exhibition.
The layout of the exhibition encourages one to journey through the room in a clockwise fashion and when I was there all the visitors followed this pattern. The result is that the last part of the exhibition to be seen is a display on modern museum techniques and a series of photographs of the 2013 Hindenburg Wall Biodiversity Expedition to Papua New Guinea, in which some MAGNT scientists participated. The idea apparently was to show how things had changed since Wallace's day and, while this is valid, I found this section to be anti-climactic and most visitors I observed did not give it much attention.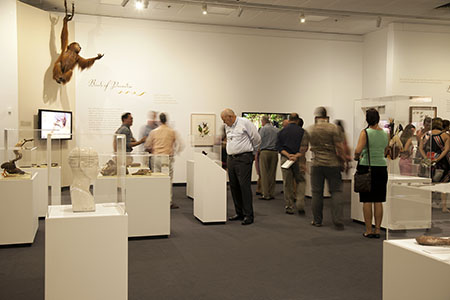 All the displays had their own appeal, but there was one whose relevance I struggled to understand, although many visitors appeared to find it interesting. This was a mid-nineteenth century bust used to explain the pseudo-science of phrenology. A small sign told us that although phrenology has since been discounted, it was reputable science at the time and Wallace was greatly interested in it. But that is all we are told. In what way was Wallace interested in phrenology? How was he involved in its practice? The lack of information for this particular display left me unconvinced of it possessing any real relevance. It was the only discordant note in an otherwise very well presented and informative exhibition.
Steven Farram is a lecturer in north Australian and regional studies (history) at Charles Darwin University.
| | |
| --- | --- |
| Exhibition: | Wallace: The rEvolutionary Man |
| Institution: | Museum and Art Gallery of the Northern Territory (MAGNT) |
| Curator: | Chris Glasby |
| Exhibition and graphic design: | Boab Design |
| Venue/dates: | Museum and Art Gallery of the Northern Territory 9 November 2013 – 22 June 2014 |