Faith, fashion, fusion: Muslim women's style in Australia
While wandering around Powerhouse Museum's exhibition Faith, Fashion, Fusion, I paused to admire the ankle-length purple dress and brown cap from fashion retailer Hijab House. Behind the dress, a film on the making of Hijab House's 2012 advertising campaign, Late for Tea, plays, showing models getting dressed for the shoot.
A visitor with two young girls walked behind me and gestured toward the purple dress and the film: 'See? Muslim girls can dress beautifully too'.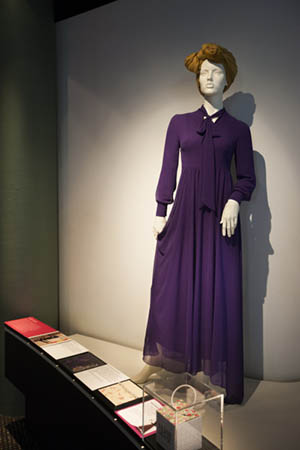 This passing comment sums up the aims and achievements of the exhibition. Faith, Fashion, Fusion successfully challenges the public's preconception of how a Muslim woman can dress. However, this comment also sums up the complex material Faith, Fashion, Fusion negotiates. The beautifully dressed model in the film does not identify as Muslim. According to an interview with Tarik Houchar, the owner of Hijab House, he chooses to use non-Muslim models. As a Muslim man, he feels it would be unacceptable to undress or dress a Muslim woman for the shoot. This detail is buried in an eight-minute interview, available in the gallery via an iPad. This point runs counter to the exhibition's central narrative, that dress is a personal choice in Australia, and that definitions of modesty liberate rather than oppress Australian Muslim women. The exhibition does not explore the potential for modesty to be prescriptive.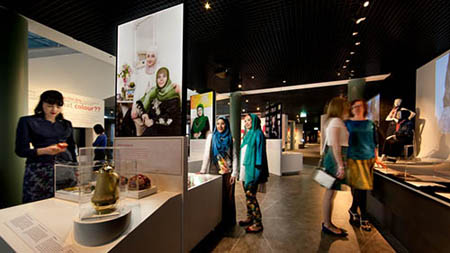 Feminist scholarship on fashion seeks to interrogate the impact and meaning of different dress practices. Although Faith, Fashion, Fusion has a feminist agenda, giving space for Muslim women to challenge negative public perceptions, the exhibition leaves little room to interrogate the troubling coalition of fashion, modesty and agency.
Faith, Fashion, Fusion is divided into three sections. The first is titled 'The business of modest fashion' and features Sydney designers and retailers with examples from their 2012 season. The garment that triggered the exhibition, the 'burqini', is prominently located near the entrance. A burqini is a three-piece swimsuit that comprises a cap, a full- or three-quarter-sleeved top and leggings. It became popular after Mecca Laalaa, the first Muslim woman to qualify as a surf lifesaver, wore it during training. Beside the burqini, other designers and retailers feature day and eveningwear: ankle-length skirts in denim with sequins, floral hijabs and creamy cardigans, loose work-style trousers with tucked, long-sleeved shirts, and ankle-length dresses with caps or hijab tied creatively to the side. With the exception of Hijab House, all labels are owned and run by women and several claim to sell beyond a Muslim customer base.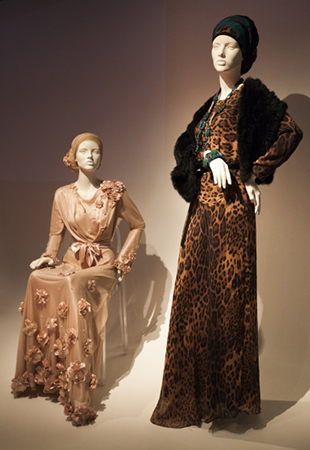 The central space, titled 'Muslim women in profile', introduces a number of prominent Australian Muslim women, including players in the Auburn Tigers Australian Rules football team. Most profiles emphasise community, sporting, literary or educational achievements rather than dress practices. Rayan Marabani, the youngest profiled, focuses the most on fashion. She discusses wearing mainstream brands, such as Forever New, alongside Hijab House. Several storyboards recount the experience of wearing the hijab, emphasising that wearing the veil is a serious personal decision. Other storyboards, particularly those of academic Susan Carland and novelist Randa Abdel-Fattah, discuss the relativism of the term 'modest'. Although Faith, Fashion, Fusion seeks to disrupt stereotypes, the biographies spotlight individual success stories, and therefore risk what Shakira Hussein has called the 'Muslim-woman-breaking-stereotypes story'.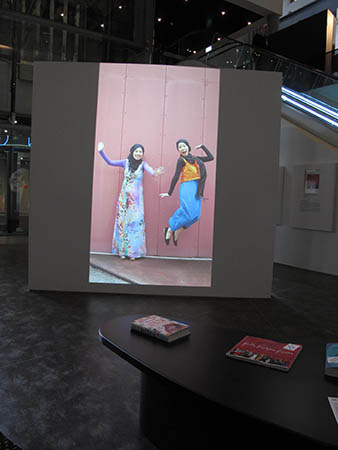 The third section focuses on interactive, online and photographic material. It includes images in the style of online fashion blog the Sartorialist showing Muslim women's everyday negotiation of modesty and fashion. Photographs from Australian fashion bloggers, Mya Arifin and Darina Darusman-Gala, creatively reinterpret the hijab for a local context. The Powerhouse commissioned Crooked Rib, a Muslim women's art collective, to produce work for the exhibition. Crooked Rib's 'selfie'-style photographs show beautifully dressed women (mostly, but not always wearing a hijab). Each woman holds up a message, such as 'Quirky', 'Activist' and 'No, I don't speak African'. Each message reveals something we cannot know from the woman's appearance, subtly challenging assumptions about what a 'Muslim woman' looks like and thinks. This artwork inspired the interactive photo booth, which won an award from Museums Australia in 2013. Titled 'Are you what you wear?' the exhibit invites visitors to photograph themselves with a card stating something that a viewer would not know from the subject's outward appearance. All the photographs now appear online. These 'selfies', along with other online material, are the most successful element in the exhibition, subtly subverting individual expectations and challenging popular preconceptions.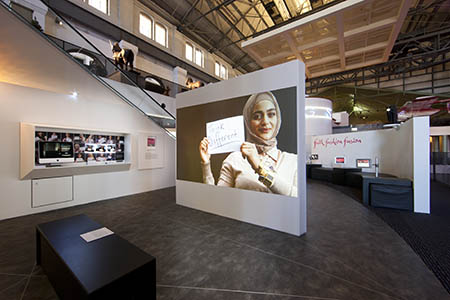 The interactive photo booth and Crooked Rib's work reminds me of Muslim women's responses to FEMEN. FEMEN is an atheist feminist movement that stages topless protests and considers 'modesty' a form of oppression and a product of patriarchy. The movement caught global media attention in early 2013, when Tunisian Amina Tyler posted her own topless photo, with her chest inscribed with the words, 'my body belongs to me'. In response, a group called 'Muslim women against FEMEN' posted images of hijab wearing women, holding cards asserting: 'I do not need saving' and 'Nudity does not liberate'. In this context, Faith, Fashion, Fusion contributes to a global debate about feminism, colonialism and the politics of dress, undress and agency.
The exhibition collapses 'feminist', 'fashion', 'modest' and 'Muslim'. For Crooked Rib's photo shoot, Susan Carland writes '3rd wave feminist' on her card. Writer Arwa El Masri claims that 'putting on the veil … was a religious and feminist decision'. She seems to suggest that modesty is a feminist solution to the sexualisation of the women's bodies. Other interviews imply feminist intent without using the 'f' word. Student and religious instructor Mona Marabani says that the hijab (rather than the niqab) helps her speak and be heard. The Auburn Tigers' act of playing football and Mecca Laalaa's surf lifesaving can be read as feminist intrusions. The Melbourne version of Faith, Fashion, Fusion (where it is now showing at the Immigration Museum) includes an interview with Hanifa Deen, an author involved in 1970s' women's liberation. Among her chosen objects is a stack of well-thumbed feminist books. Although Faith, Fashion, Fusion has a feminist agenda, the exhibition leaves little room to interrogate (as opposed to celebrate) fashion, modesty and agency. The interviewees generally reinforce their particular definition of modesty as a 'choice'. However, several interviews allude to multiple, conflicting community expectations. Susan Carland outlines some of the reasons women wear the hijab, implying that it bestows legitimacy, and she hints at double standards. In an interview for the program Compass on ABC Television that was aired in response to the exhibition, designer Aida Zein mentions that she sometimes asks customers: 'Would your husband let you out of the house like that?' Hijab House's use of non-Muslim models for fashion shoots also reveals these gendered expectations and inequalities. It would have been fascinating if Faith, Fashion, Fusion also considered Muslim men's dress practices in Australia.
On reflection, my initial expectation that Faith, Fashion, Fusion would negotiate prescription and choice is somewhat unfair. I have never visited an exhibition that demonstrates how contemporary fashion can liberate in some contexts, and oppress in others; liberation and oppression depends on the garment's use rather than its design. Interpretation depends entirely on the context.
Between the exhibition's closing at Sydney's Powerhouse and reopening at Melbourne's Immigration Museum, news reported that recording artist and actress, Rihanna, was evicted from Abu Dhabi's Grand Mosque for immodest behaviour. She was evicted due to her immodest pose, rather than her immodest dress. Her perfect red lips, black outfit and gold tassel jewellery would fit easily into Faith, Fashion, Fusion, being of the same 'modest' standard. The wearing of Muslim women's dress by women who are not Muslim, as a fashion statement rather than as an act of faith, can be problematic. Such appropriation is not necessarily respectful, and is a topic Faith, Fashion, Fusion could have explicitly addressed. Historically, Western culture has often treated Muslim women's dress as an object of fetish, and Lady Gaga's recent song 'Burqa' reiterates the contemporary relevance of this point. I have to wonder at my own fascination (as a non-Muslim, non-religious feminist) with Muslim dress practices. While I was sitting, studiously engaging with new material introduced into the exhibition for its Melbourne showing, I found myself surreptitiously watching a large group of girls in hijab, who casually and quickly moved through the space. The exhibition encourages visitors to scrutinise visibly Muslim bodies. The curators are well aware of this problem, and seek to deflect the gaze through interviews focusing on Muslim women's accomplishments, rather than their dress practices.
At the heart of Faith, Fashion, Fusion lies an unresolvable tension. The exhibition demonstrates that Muslim women's dress practices are only one small aspect of Muslim women's identity. This tension is due to curatorial sensitivities toward what Randa Abdel-Fattah calls the 'draining … preoccupation with what we wear at the expense of who we are and what we are doing and what we want to achieve.' This is highlighted also by Hanifa Deen's comment: 'Nobody listens when Muslim women complain that the annual hijab–burqa debate is boring and irrelevant'. Problematically, the exhibition demonstrates these points via an exhibition about Muslim women's dress.
The feminist potential of modesty, the slippery politics of choice, the possibility of treating Muslim dress as a fetish and the difficulty of discussing Muslim women's dress without reducing Islam to an outfit, means the exhibition leaves many loose ends. Faith, Fashion, Fusion does not provide visitors with answers; instead it spools out questions and debate.
Fashion exhibitions rarely seek to negotiate identity politics. Faith, Fashion, Fusion refreshingly attempts to merge a discussion of identity with an analysis of style trends. However, the exhibition manages this with mixed success, due to the separation between the 'business of fashion' and 'women in profile' in the central exhibition space. These two themes come together seamlessly only in the third section, featuring interactive and online content. Despite this compromise, the exhibition creates the potential for self-examination, as well as conversations private and public, surely the ideal goal of museum interventions in public culture.
Petra Mosmann is a PhD candidate at Flinders University and has an interest in dress and textile collections. Her current research focuses on feminist collection practices.
Exhibition:
Faith, Fashion, Fusion: Muslim Women's Style in Australia
Institution:
Powerhouse Museum, Sydney
Curatorial team:
Glynis Jones, Melanie Pitkin, Powerhouse Museum, Sydney; additional content for Immigration Museum, Melbourne added in consultation with cross-cultural consultant and curator, Tasneem Chopra
Project manager:
Joanne Delzoppo
Exhibition design:
Fiona Blades
Graphic design:
Peter Gould, Creative Cubed Design Studio
Venue/dates:

Powerhouse Museum, Sydney, 5 May 2012 – May 2013
Immigration Museum, Melbourne, 10 October 2013 – 9 June 2014
Touring from September 2014 to regional venues, including Museum of the Riverina, Wagga Wagga; Western Australian Museum (Geraldton, Albany Branch and Kalgoorlie-Boulder branches); Albury Library/Museum; Maitland Regional Art Gallery; Fairfield City Museum and Gallery; Liverpool Library

Exhibition catalogue:
Glynis Jones (ed.), Faith, Fashion, Fusion: Muslim Women's Style in Australia, Powerhouse Publishing, Sydney, 2012, ISBN 9781863171434
Exhibition website:
Powerhouse Museum
Immigration Museum