Exhibition reviews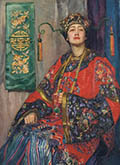 Paris to Monaro
Pleasures from the studio of Hilda Rix Nicholas
review by Jennifer Gall

The curator invites the viewer to experience the rich sensuality at the heart of Rix Nicholas's artistic creativity and the secure, protected world in which she nurtured her artistic talent. This luscious visual spectacle is the great appeal of the exhibition.
---

Given that most of the lived experience of Australians in 1913 is irretrievably lost and that no one that year was actually given the task of curating an exhibition for the future, it seems miraculous that the curators have managed to retrieve so many remnants of Australian life from exactly one century ago.
---

Afghanistan
Hidden treasures from the National Museum, Kabul
review by Philipp Schorch
In depicting Afghanistan, most media organisations, fuelled by hunger for sensational news, perpetuate the mayhem by drawing a partial picture without a glimmer of hope. A more promising tactic might be to critically excavate the forgotten richness of its culture and history, as is done in this exhibition.
---

Design 29
Creating a capital
review by Peter Spearritt
Having lived in Canberra in a variety of locations, from the now demolished Graduate House, on the corner of Northbourne Avenue and Barry Drive, to the finely laid out streets and walkways of Griffith, I approached an exhibition about 'creating a capital' with high expectations.
---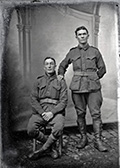 Remember me
The lost diggers of Vignacourt
review by Peter Williams
I went to The Lost Diggers of Vignacourt imagining it would be about Australian soldiers' faces. I planned to stand close to the images and look into the diggers' eyes to sense what I could of their war. I did that, and there are eyes aplenty.
---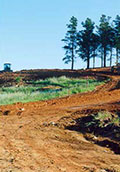 Trees are ubiquitous in Canberra – the exhibition title rings true. So why did this exhibition leave me feeling flat and disappointed?