Papers

Literary biographies often seek to establish a congruence between the life and art of their subject. In the case of Arthur Ransome (1884–1967), author of the beloved Swallows and Amazons series of children's novels, such a relationship may be established by mining the rich vein of material culture that remains from his life. Ransome's lifelong tendency to locate, collect and retain objects of interest and emotional attachment was indulged (or tolerated, at least) by his family. As this paper asserts, the resulting collection of realia is a material insight into the passions, interests and character of an author whose literary output has enriched the lives of generations, but the essence of whose person remains enigmatically remote from his legions of devotees.
---

Recently, 17 of New Zealand's largest art museums and galleries were surveyed to examine the relationship between these institutions and the early childhood sector. The findings reveal that the New Zealand Government's current funding regime significantly limits access for young children. As this paper indicates, further research and funding is required to support improvements in the development of early childhood teaching and visit-related resources, and professional development for early childhood teachers to enhance opportunities for young children to benefit from the cognitive benefits offered by art museums and galleries.
---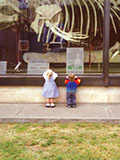 This article provides a detailed overview of the marine mammal collection at the South Australian Museum – a collection that began in the late 1800s and has benefited since from the keen influence of directors, curators and researchers. It is now the largest and most comprehensive in Australia, numbering over 2200 specimens and 57 species, and represented in five museum displays.