Paul Eggert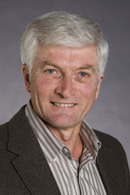 Paul Eggert writes in the area of editorial theory and philosophies of conservation and restoration. His book,
Securing the Past: Conservation in Art, Architecture and Literature
, was published by Cambridge University Press in 2009. He has prepared scholarly editions of works by DH Lawrence, Henry Kingsley and Rolf Boldrewood, and was general editor of the Academy Editions of Australian Literature. He is an Australian Research Council professorial fellow, based at the University of New South Wales at ADFA in Canberra.