Australia's Muslim cameleers: Pioneers of the inland, 1860s-1930s
review by Bill Seager
Despite earning praise for their low-fat and low-cholesterol meat, camels in Australia today are labelled a pest, in some cases of plague proportions. There was a time, however, when they were the backbone of Australia's outback economy. The building of the Overland Telegraph Line, Trans-Australian railway, and services to outback communities and properties all depended on them. There are also few introduced species that arrived with such a distinctive human community and culture. The new South Australian Museum travelling exhibition Australia's Muslim Cameleers leaves no doubt that camels, cameleers and Australia's first Muslim community helped shape Australia's outback. The exhibition is timely, as it also leaves little doubt that there is an incongruous relationship between the place of Muslim Australians in Australian history and their identity today.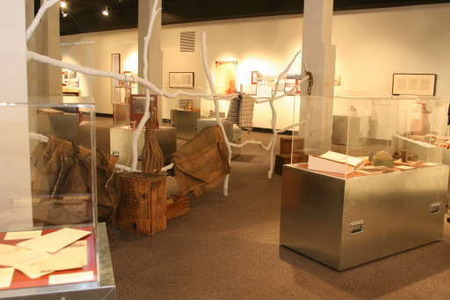 The curators have spent some years developing this story that may have otherwise fallen into a gap between seemingly larger or more popular histories. This makes it a prime candidate for exhibition treatment and the job is done well. The net is cast widely, with items and stories from all over the country, and loans from a variety of sources ranging from the nation's state libraries to outback families.
Horses were the traditional beast of burden on early expeditions into Australia's interior. They required regular watering, however, were easily exhausted and supposedly 'spooked' by the Australian terrain. When times became desperate during an expedition horses became high maintenance. Edward John Eyre was so devoted to his horses he almost died trying to look after them during the latter part of his 1841–2 expedition.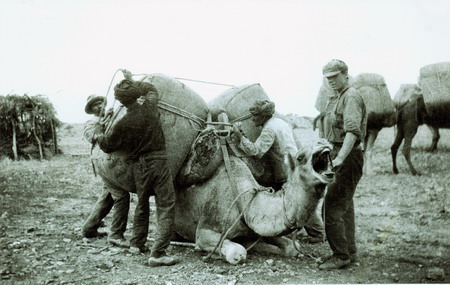 State Library of South Australia
It was hoped the introduction of camels and the even smarter suggestion of experienced cameleers, or Afghans as they came to be called, to work them would turn around Australia's fortunes. First introduced to South Australia in 1840, camels were trialled in numerous expeditions. However they became a business when Thomas Elder and the Stuckeys imported 124 beasts and 31 cameleers on a three-year contract in 1865. Their mission was to unlock the wealth and potential of Australia's interior.
Visitors are welcomed into the exhibition by two amazing saddles, one made in Adelaide by Holden & Frost and the other by Andrew Harper of the Outback Camel Company. Saddles are used as showpieces throughout the exhibition. Made to be flexible and durable, each one is unique and tactile. Made from leather, timber, metals, woven fabrics and organic materials, they may look rudimentary but are remarkable pieces of engineering, and convey the ingenuity, skill and practicality of the cameleer.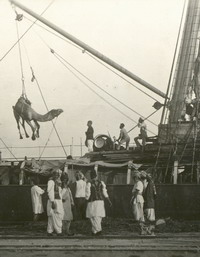 State Library of South Australia
The exhibition themes are broken up into approachable main stories of a nice word length and clearly written style. They introduce many subjects including the arrival of the cameleers and life in the camel camps. The curators estimate that between 1870 and 1900 more than 2000 cameleers and an amazing 15,000 camels came to Australia, largely from British India and Afghanistan. The cameleers were predominantly Pashtun, Baluchi, Punjabi and Sindhi. They spoke their own languages in Australia and religion was their common bond. Nearly all were young or middle-aged men. Many returned home to the families they had left behind while others stayed and married, building families and new communities. Many of those who stayed married into Aboriginal families. Their stories are scattered throughout the exhibition and work successfully to integrate a history of Indigenous Australians that is interpreted outside of the typically marginalised and violent confines of the colonial frontier. Objects such as a boomerang carved with turbaned cameleers, and ceremonial objects made with camel hair make it clear that these are stories about family, cross-cultural material life, and diversification.
The strength of each theme is that it never loses sight of the human relationship between the cameleers and their personal achievements, their culture and community, and of course the camels and the Australian landscape. Each story also attempts to give the cameleers equal recognition to the Europeans and stresses an interdependent relationship. A lovely hand compass presented to Bejah Dervish on Queen Victoria's birthday in 1896 illustrates this. Part of the Calvert expedition, Dervish searched for and rescued two members of the party and expedition leader LA Wells stated 'we would never have got through alive without him'. The power of the object and its story is continued on film at the end of the exhibition, as curator Philip Jones talks to one of Dervish's descendants who recalls the incident while handling the compass.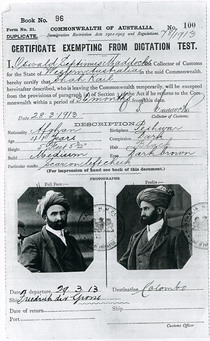 Other amazing objects from equally surprising sources give us access to the exhibition's other themes. A fabulous 1856 petition asking the South Australian Parliament for £1200 to bring out 60 camels (debated and defeated) and numerous cameleer contracts illustrate what a business and political enterprise it was; a beautiful ceremonial jacket from the Migration Museum, Adelaide, belonging to a pilgrim returning from Mecca shows the continuation of religious life; a huge montage of reproduced certificates, with powerful photographs, exempting cameleer arrivals entering Australia after 1901 from sitting the dictation test (and thus from the ruthlessness of the White Australia Policy) illustrates societal and political shifts; a jawbone from the Burke and Wills expedition camel Landa is a haunting reminder of the explorers' desperate mission to conquer the interior.

State Library of Victoria
For this visitor the stars of the show are the camels themselves. Their long legs, necks and eyelashes may make them good visual subjects but it is their expressions that give them character. At every turn they arrest, entertain and inform in artworks and photographs. Their march across the desert almost bring a religious quality to works like William Strutt's 1862 watercolour and pencil painting The Burke and Wills Expedition: The First Day's Order of March. It is also wonderful to see the support of institutions like the State Library of Victoria who lent this work for the exhibition. A rich collection of photographs is also used, each image giving a real sense of the cameleers' distinctive dress, skill in loading the camels and details of community life, such as Australia's first Muslim mosque in the bush. One image of a string of camels laden with wool bales is reminiscent of the wool barges of the Murray–Darling. The cliché of camels being the ships of the desert comes alive, as does Australia's utter dependence on the successful transport of wool.
The exhibition is let down somewhat by the design and layout. The main graphics have a visual signature of images that seem a little messy in comparison to the striking objects selected for the exhibition. Nor are they always well-placed, creating distances between story, experience and the objects. While the storybook or collage method allows for the display of lots of images, important stories are sometimes lost. A lack of space and a desire to be economical with words often make it hard to give equal weight to a main story and the individual examples that give a theme human context. In
Australia's Muslim Cameleers
a lot is buried in the image captions which can be hard to read. For example, details about the outcome of the astonishing incident at Broken Hill on 1 January 1915 in which two cameleers fired on a picnic train, or why Mohamet Allum, cameleer and later successful Adelaide herbalist to the elite, was forced to live most of his life in Australia as an 'alien', need some perseverance.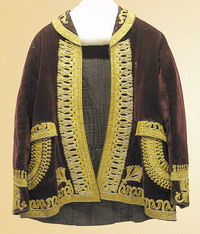 Migration Museum, Adelaide
The object cases look good. Their polished stainless steel finish reflects the large metal trunks of the outback and would make them robust and practical for a travelling exhibition. Each contains a curious magnetic label placed low for younger visitors, no doubt intended for use by schools. These aside there is little for young audiences to do in the exhibition. Perhaps something on the biology of the camel or finding water in the outback could have been made interactive and interesting.
The film at the end of the exhibition is great. It is nice to see a curator on screen talking to descendants who lent their stories and objects. While it gives the visitor an opening it would have been fantastic to find out more about the curatorial perspective here. The curatorial team obviously did a lot of work on the ground and out in the communities, and it is a shame that they remain invisible in most exhibitions. More may come out in the catalogue, due for publication later this year.
Exhibitions like Australia's Muslim Cameleers encourage us to explore those spaces in between the better known histories that usually inform our national story, identity and communal memory. The exhibition ends with a 2003 work by Aboriginal/Afghan artist Ian Abdulla titled Afghanistan Blood in Him like Me. It is a work that seeks to reconnect Abdulla with his Afghan past. The image reminds us of the exhibition's relevance for Australian visitors today.
Bill Seager is senior curator at the South Australian Maritime Museum, a museum of the History Trust of South Australia.

Institution:

South Australian Museum

Curatorial team:

Philip Jones, Department of Anthropology, South Australian Museum and Anna Kenny, consultant anthropologist, Alice Springs

Design:

David Kerr, Head of Exhibitions and Design, South Australian Museum

Exhibition space:

325 square metres, (touring exhibition 250–300 square metres)

Venue/
dates:

South Australian Museum, 8 June – 22 July 2007
Broken Hill Regional Art Gallery, 14 September – 21 October 2007
National Library of Australia, Canberra,
12 December 2007 – 17 February 2008
(other venues to follow)


Publication:

Australia's Muslim Cameleers: Pioneers of Australia's Inland, 1860s–1930s, by Philip Jones and Anna Kenny, Wakefield Press, Adelaide, to be launched at the National Library of Australia, Canberra, December 2007

Exhibition brochure and teacher notes at: www.samuseum.sa.gov.au/page/default.asp?site=1&id=1561