Exhibiting James Cook
Cook's Sites at the National Library of Australia, 16 March – 18 June 2006
Cook's Pacific Encounters: The Cook–Forster Collection of the Georg-August University of Göttingen at the National Museum of Australia, 1 July – 10 September 2006
James Cook is remembered in all parts of the globe: monuments and statues, plaques celebrating the metric moments — the centenaries, sesquicentenaries, bicentenaries — of his life, death and discoveries. The people of Victoria have a monument to him at Kealakekua Bay, Hawai'i, where Cook was killed, principally because Russell Grimwade bought Cook's mum's cottage in Yorkshire for £800 and re-erected it in their Fitzroy Gardens. Small boys have gotten infinite joy on solemn occasions around the Great Man's statue at Randwick — seen from an angle, the telescope Cook holds looks very inappropriate.
Some day soon, an economic rationalist will tell us the cost of buying and looking after Cook's relics in the libraries, archives and museums of the world, and the caring for his monuments in our parks. But cost isn't part of it, is it?
James Cook in some way is us. Identity and national pride don't have a price tag.
James Cook is us, as we want to be, in our ideals of science and discovery. James Cook is us, as we want to be, in our carefulness for less privileged peoples.
There isn't a place in the world where this 'mirror-mirror-on-the-wall' of James Cook is to be seen as abundantly as in Canberra. Oh! Yes! There is Whitby and the National Maritime Museum, Greenwich. But Cook is too British there, and always will be. Cook-in-Canberra is us in a different dimension. Cook is us discovering the wondrous difference of our land. Cook is us confronting the truth that we, like he, are in some way trespassers on a land inspirited for millennia before us.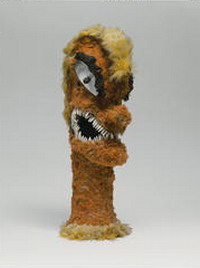 Courtesy Georg-August University of Göttingen
Photo: Harry Haase, Michael Tropea
This Cook-in-Canberra consciousness has never been so present as in 2006. Two brilliant exhibitions, one at the National Library — Cook's Sites — and the other at the National Museum of Australia — Cook's Pacific Encounters — have focused on the evolving nature of our memorialising of Cook.
Cook's Sites, at the National Library, curated by the wunderkind of Pacific studies, Nicholas Thomas, was an education in the mysteriousness of this memorialising of Cook. Cross-cultural history has long left the antiquarian ambitions of our political masters that history be a frozen gaze on the past. For 20 years young historians and anthropologists on all sides of our cultural boundaries have explored how the past is joined to the present. That is the creative genius of these first years of the twenty-first century, and the young from primary school to university are exulting in it. They know that there is no such thing as 'history'. There are histories, and they know the rules by which these different histories are made. They are postmodern. Not postmodernist. Postmodern. They belong to their times. They watch their cartoons in postmodern ways. They listen to their politicians in postmodern ways. They know they make their present by telling stories about their past in postmodern ways. Cook's Sites, the exhibition, was an icon of how the past reaches into the present in culturally different ways.
The art of the exhibition (principally the photographs of Mark Adams, one of New Zealand's — let me say, one of Aotearoa's — most distinguished photographers. I say 'Aotearoa'. Using a name that represents the mixed nature of history is only one of the ways that the twenty-first century is postmodern.) is mostly photographs taken by the 8 by 10 inch large-format field camera that Adams uses. The depth, detail and immediacy of these photographs beg for the words that reveal their many pasts and presents.

Copyright Mark Adams
Let us go to one of those sites. It is Point Venus at Matavai Bay, Tahiti. Samuel Wallis planted his English flag there in 1767 and claimed possession of the island for King George. Cook made his observations of the Transit of Venus there. Bligh collected his breadfruit there. The Bounty mutineers came back there to live out their dreams of paradise and Captain Edwards in the Pandora captured them there and took them back to be hanged. The London Missionary Society missionaries set up their first mission there. On the Island of Love, they preached their first sermon there on Point Venus. 'God is love', they said.
Look closely at Adams's photographs. Maybe you are surprised that the beach is of black sand. Marlon Brando certainly was when he came there to film The Mutiny on the Bounty. So he transported tons of white sand from New Jersey to make Matavai a real Pacific island beach. Isn't it true, as the exhibition showed? The sites of our past are layered with meanings on meanings, as is our present.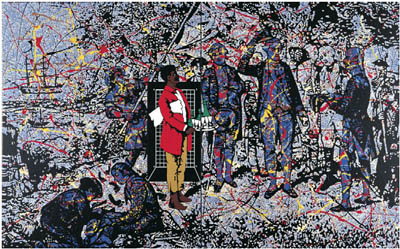 Collection of Greg Egan and Andrew Grant-Taylor
Copyright Gordon Bennett
Indigenous artists were in
Cook's Sites
as well: Brenda L Croft, Adam Hill, Dianna Jones, Kylie Kemarra, HJ Wedge and Gordon Bennett. Let Bennett's
Possession Island
(1991) stand in for them all. The National Library must have loved exhibiting
Possession Island
. They have James Cook's own account of taking possession of the whole east coast of New Holland, from Point Hicks in the south to Cape York in the north. They also have the Mabo papers. Side by side in Bennett's
Possession Island
can be seen the Englishmen and the Mabo ancestors each claiming possession. Doesn't the past reach into the present once you try to represent it — whether in words, photographs or paint?
This country, Canberra included, has never seen the like of Cook's Pacific Encounters: The Cook–Forster Collection of the Georg-August University of Göttingen. Savour its brilliance, if you didn't get to Canberra, in the catalogue printed under the same name by the National Museum of Australia.
Of course, the brilliance belonged to the islanders. It was their skills and eye for beauty that were on display. The collectors had to take second place, though it is the irony of this postmodern age that to get the crowds that must come to make this sort of exhibition possible and to let the Museum do the creative things we expect of it, it is James Cook's name they must use to attract attention. But take a moment as you leave the exhibition. There was a sort of historical genealogy of these beautiful things, tracing their passage through 200 years and more from museum to museum. Anyone who stood and reflected on this genealogy would pay homage to the thousands of scholars, curators, conservators, museum managers, citizens and philanthropists who give of their time, energy, knowledge and wealth for these treasures to remain treasured through the centuries.
The Cook's Pacific Encounters exhibition had something different about it. The Museum, through its director, Craddock Morton, and his principal advisor, Professor Howard Morphy of the Centre for Cross-Cultural Research at The Australian National University, had the ambition to educate as many as they could on how to understand what an exhibition like this might mean in the evolving role of museums in presenting the urgent issue of the encounter of cultures both in the past and present. They organised a day on 'Discovering Cook's collections' and brought prominent scholars from the most prestigious museums and universities around the world to display their scholarly wares.
It was a dramatic day, as all those who were there will attest. For myself, who was there and participated, it was a personally moving occasion. I don't mind admitting that there are often high moments of emotion in researching. I remember the almost tearful awe I felt when for the first time, in my white gloves, I turned the pages of Cook's own journal, written with his own hand in his tiny cabin on the Endeavour. I had the same tearful feeling of awe when I saw two things in this exhibition. The one was the feathered image of Ku, the god of war and sacrifice in Hawai'i. Ku was the cultural opposite of Lono, the god of plenty and community. The Hawaiians called Cook 'Lono'. I had never seen this representation of Ku before, but I have spent years of my life trying to understand what this opposition of Ku and Lono might have meant in the life and death of James Cook.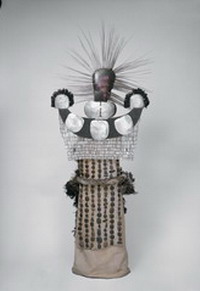 Courtesy the Georg-August University of Göttingen
Photo: Harry Haase, Michael Tropea
The other item that nearly brought me to tears was the mourning dress, the heva. It is perhaps the most exciting item brought back on the Endeavour. It has been exciting for me, not just because of its beauty and mysteriousness, but because it materialised what for me was the most significant thing that came out of the exhibition and the day of reflection on it.
That was, that as we have the right to think that Cook is in some way us, the Pacific Islanders have the right to think that these beautiful things are also themselves. There was one Pacific Islander who came out of anonymity in the exhibition and the day of reflection. It was Tupaia, a priest of 'Oro, the Tahitian god of war and sacrifice. He is a hero of mine. He draws a map for Cook of the islands he knows. There are hundreds of them, and he can place them from Samoa, Tonga and Fiji in the west to the Marquesas in the north-west, 7000 kilometres across. He educates Cook in the protocols of the encounter with other islanders. In Aotearoa he is clearly the most important person on the Endeavour to the Maori. He dies of scurvy and malaria in Batavia.
Why the mourning dress is important in relation to Tupaia is that a painting of it, always thought to have been done in a primitive way by Joseph Banks, is now known to have been done by Tupaia. This painting is an extraordinary icon of the encounter between the Europeans and the Pacific Islanders. Tupaia crossed cultures in that encounter in ways no European was ever able to do, and left us images of his understandings.
What Cook's Pacific Encounters did for us in our evolving understanding of how we should memorialise a past that has two cultural dimensions was show us that we have to learn to give the other, Indigenous, side some priority if we are not to be blinded by hindsight. This was easy to do when we were immersed in such beauty and talent.
Greg Dening has authored many seminal books on encounters in the Sea of Islands, the latest being Beach Crossings: Voyaging Across Times, Cultures and Self (Melbourne University Publishing, 2004).