Commentary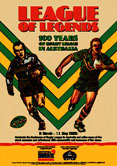 League of legends
100 years of rugby league in Australia
by Guy Hansen
Celebrating the centenary of rugby league, the League of Legends exhibition traced the history of the game. In this paper, the exhibition's curator, Guy Hansen, gives an insight into his approaches, and considers the question of whether rugby league is an appropriate topic for the National Museum of Australia.
read the paper
about the author
_____________________________________________________

The museum curse
Folk culture open-air museums, great writers' historic-house museums and authenticity
by Paul Eggert
Paul Eggert explores issues of authenticity in relation to folk culture open-air museums and great writers' historic house museums in Helsinki, Oslo, Prague and Bergen.