Seize the day: Exhibitions, Australia and the world
by Kate Darian-Smith, Richard Gillespie, Caroline Jordan and Elizabeth Willis (eds), Monash University ePress, Clayton 2008
ISBN: 9780980464801, 372pp, RRP A$54.95
review by Louise Douglas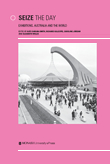 It is fitting that this fine collection of essays about Australia's exhibition culture should emanate from Victoria, the colony that did more to make exhibitions — 'at home' and overseas — an important part of nineteenth-century public life as well as an effective marketing tool for the achievements of Victoria.
Based on a conference held at Museum Victoria in 2006, Seize the Day comprises 20 chapters divided into two sections — 'Displaying colonialism' and 'Nationalism and modernity' — which explore all forms of exhibitions, from agricultural shows to the massive international exhibitions and expositions. Reflecting the diversity and universal nature of the exhibitions themselves, it is a cross-disciplinary collection, with authors examining exhibition culture from a range of perspectives: Indigenous history, popular culture, gender relations, collections, cultural heritage management, Australian literature, art history and architectural history. The editors have taken a commendably broad and inclusive approach and included key figures in exhibition research (such as Linda Young) and young scholars (Emily Harris).
The frame through which these essays are presented is outlined in Kate Darian Smith's introductory essay. Here we see how Australia seized the moment and participated enthusiastically in making and attending exhibitions, especially in the nineteenth century (where the majority of the essays are located). We also see how exhibitions reflected the tensions inherent in representing Australia's colonial, national and imperial identities in three-dimensional form.
Exhibitions were one of the few ways Australia's Indigenous cultures and peoples were made visible. Seize the Day begins with three chapters focusing on Indigenous cultures: Elizabeth Willis continues her work on Aboriginal and settler exhibits in mid-nineteenth-century Australia, while Emily Harris and Penelope Edmonds present different perspectives on race at the 1866–67 inter-colonial exhibition in Melbourne, the first major attempt at a national exhibition 'at home'. In two separate case studies, Lise Summers looks at Western Australia at international exhibitions 1860–1890, while Joanne Scott and Ross Laurie focus on the first inter-colonial exhibition in Brisbane, in 1876. The extraordinary people who were behind exhibitions are highlighted by Linden Gillbank in his chapter on Dr Ferdinand Mueller and David Dunstan who looks at the contribution of Dr Louis Lawrence Smith). The materiality of exhibitions is explored by Jonathan Sweet in his chapter on postcards, and Annette Shiell and Elizabeth Harrick respectively describe the phenomena of grand bazaars and conversazioni as parallel and connected events.
The second half of the book explores 'Nationalism and modernity' and begins with Linda Young's overview of the major international exhibitions held in Australia. Martha Sear describes two significant women's exhibitions, one held in Sydney in 1888 and the other sent to Chicago in 1893. Three chapters focus on aspects of art exhibitions: the struggle for Australian art at the 1880 and 1888 international exhibitions (Caroline Jordan); the 1887 Grosvenor Inter-colonial Exhibition in Melbourne (Alison Inglis); and Adelaide's Federal Art Exhibitions 1898–1923 (Catherine Speck). The final chapters focus on the Centenary All-Electricity Exhibition of 1935 (Robin Grow), the Australian Painting exhibition at the Tate Gallery in 1963 (Sarah Scott) and the design of Australia's displays in Expo '67 in Montreal and Exposition '70 in Osaka (Carolyn Barnes and Simon Jackson). No serious review of the history of exhibitions would be complete without a contribution from Robert Rydell, the undisputed pioneer of international exhibition scholarship. The book ends with a perceptive overview about where future scholarship may go.
This eclectic but at the same time representative collection reflects the recent burgeoning interest in exhibitions as important historical occurrences. Not everything about every exhibition is of interest to everyone, and the reader can happily drop in and out of the collection depending on their interest. The editors deserve to be complimented on the consistency of the short introductory overviews and conclusions, which enable the reader to quickly ascertain whether the content is of interest. The chronological index of exhibitions and their page references is also very useful.
Seize the Day deservedly won the Australian Society of Archivists' Mander Jones Award in 2009 for the publication that best uses, features or interprets Australian archives.
Louise Douglas is currently completing a PhD at the Australian National University on the displays Australia sent overseas to international exhibitions held between 1851 and 1939.