Papers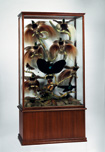 Collecting birds of paradise
by Cinnamon Van Reyk
One of the foundation objects of the National Museum of Australia's collection is an ornamental case containing birds of paradise inherited as part of the Australian Institute of Anatomy collection that was transferred to the Museum in 1981. A detailed exploration of this object's provenance shows how it has evolved from a signifier of social status, to a curiosity out of place in a scientific institution, to an object rich in social history.

The proclamation cup
Tasmanian potter Violet Mace and colonial quotations
by Penelope Edmonds
In 1829–30, Governor George Arthur distributed illustrated 'proclamation boards' in Tasmania, intending to conciliate the local Aboriginal people. A hundred years later, the same illustrations were used by Tasmanian potter Violet Mace on her pottery. This paper explores Mace's cup as both a historical souvenir and a reworking or quotation within the popular culture of Tasmania's settler-colonial society during the early twentieth century.