« back :: next »
Exhibiting Indigenous art
Culture warriors (National Indigenous Art Triennial 07)National Gallery of Australia
Papunya painting: Out of the desert
National Museum of Australia

review by Luke Taylor
This is a review of two major, and excellent, exhibitions of Aboriginal and Torres Strait Islander art at two of Canberra's premier cultural institutions. Culture Warriors at the National Gallery of Australia (NGA) is a large-scale survey of contemporary practising Indigenous artists that fills the halls of the NGA's blockbuster temporary exhibition space. It's the inaugural exhibition of the National Indigenous Art Triennial, signalling a commitment to surveys of this scope on a regular basis and marking the return of the NGA as a force in the promotion of Indigenous art. Papunya Painting: Out of the Desert at the National Museum of Australia, is a more focused exhibition that details a decade in the development of the Papunya Tula Artists organisation at a time when the Aboriginal Arts Board of the Australia Council was the major purchaser of the artworks. This museum exhibit presents many beautiful works on canvas and expertly incorporates a variety of media to educate audiences about the artists' intentions and the unique history of the works.
The NGA management is to be congratulated for making
Culture Warriors
a free exhibition when there must be competition for the space. It includes recent works from every Australian state and territory — and it's a rollercoaster ride.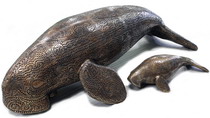 Kala Lagaw Ya people
cast bronze
National Gallery of Australia
courtesy of the artist and the Australia Art Print Network

The exhibition opens with massive sculpture installations in the light-filled foyer. This sets the tone for the seven halls to come as we move from reverence to irreverence, ceremony to irony, and journey through the highs and lows of Indigenous life experience. Dennis Nona's Ubirikubiri (2007) is a weighty bronze work of a warrior riding on the back of a crocodile, and was winner of the 2007 National Aboriginal and Torres Strait Islander Art Award. The bodies of the figures are elaborately incised. A similar bronze work Apu Kaz (Mother and Baby Dugong) (2007) comes complete with hunting platform, harpoon, rope coils and hunting magic emblems. Nona is a Torres Strait Islander artist from Badu Island and these works result from his collaboration with Urban Art Projects in Brisbane. A massive lino print Yarwarr (2007), carved in Nona's highly intricate style, sets off the sculptural work. Speaking across this space is Danie Mellor's kitsch tableau of tiled kangaroos and tree full of stuffed birds The Contrivance of a Vintage Wonderland ... (2007). This work evokes the theatre of the exotic played out in eighteenth- and nineteenth-century museum displays.
The second hall features five artists from Queensland and the Northern Territory singled out for special recognition for their seniority and commitment to four decades of artistic work. These are sublime works in ochre that include wall pieces and sculpture. Wik artist Arthur Koo'ekka Pambegan Jnr has turned the flying fox body design into paintings on canvas, and we see the connection with his
Flying Fox (Red Back)
(2007) suspension installation. Lofty Bardayal Nadjamarrek AO was first taught to paint on rock by his father and, at over 80 years of age, is still painting. His
Dulklorrkelorrkeng and Wakkewakken
(2005) conveys the macabre imagery of rock country spirits and the textures of the work are similar to rock art styles. John Mawurndjul shows us the energy of his country in waves of
rarrk
crosshatching that flow across his large barks and coil around the trunks of the
Lorrkon
(2004) hollow log sculptures. He takes his inspiration from ceremonial designs called Mardayin, yet he says emphatically that his works for the market are not the same — he has changed them for a general audience. Liyagalawumirr artist Philip Gudthaykudthay and Tiwi artist Jean Baptiste Apuatimi have transformed ceremonial designs into the more expansive scale of works on canvas. The roughly textured crosshatched and dotted squares and triangles of Baptiste's work could not be more distinct from the fine
rarrk
of the Arnhem Land artists, yet the energy tumbles from her large canvases.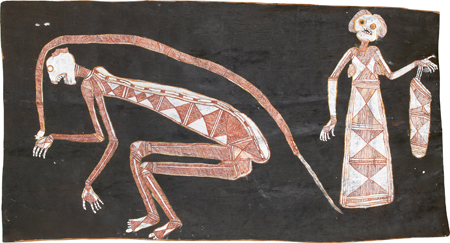 Kundedjnjenghmi people
natural earth pigments on stringybark
courtesy of Eleonora Triguboff
© Bardayal 'Lofty' Nadjamarrek, Injalak Arts

All the works in this exhibition are contemporary art, including that of senior people who live in relatively remote parts of Australia. The artists are keen to explore new opportunities for personal expression presented by the art market. These intercultural relationships have inspired them to take their art in new directions. Each artist delves into ceremonial forms to find the kernel of an idea that can be elaborated in new ways on canvas or on large barks scaled up for the massive spaces of contemporary art galleries.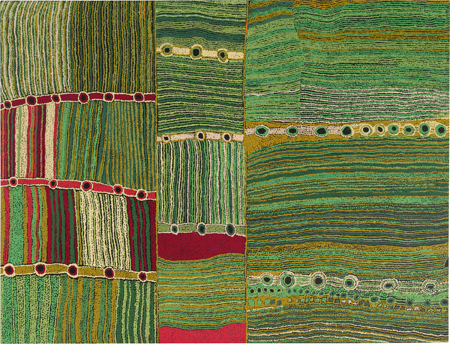 Pitjantjatjara people
synthetic polymer paint on canvas
National Gallery of Australia
© Maringka Baker

There are bright and richly coloured works to follow. Pitjantjatjara artists Jimmy Baker and Maringka Baker commenced painting in 2004 and their work is full of early excitement for the media. Jimmy Baker creates mixtures of iconic forms relating to Ancestral activity amid fields of rich red, orange, or yellow dots. Maringka Baker's powerful use of green colours in
Kuru Ala
(2007) and
Ngura Mankurpa
(2006) evoke the verdant transformation of sandhill country after thunderstorms. At Bidyadanga, the Yulparija-speaking artist Jan Billycan (Djan Nanundie) also uses juicy greens and pinks in her representation of the fertility of country around waterholes in the Great Sandy Desert.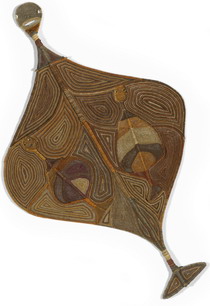 Kuninjku people
natural earth pigments dyed on woven pandanus (Pandanus spiralis)
National Gallery of Australia
© Anniebell Marrngamarrnga, courtesy Maningrida Arts & Culture

Women are very well represented. Yorta Yorta artist Treahna Hamm has rekindled the skills of making possum-skin cloaks in her Barmah nurrtja biganga (Barmah Forest Possum-Skin Cloak) (2005) which shows the important Ancestors of yabby, turtle and cod in the Murray River, and river red gums rising like spirits from its banks. Her Yabby (2005) uses coil weave technique to create a wonderfully expressive rearing figure. Kuninjku-speaking artist Anniebell Marrngamarrnga, who learned to weave baskets from her mother, started to create a totally new style of flat woven sculpture in 2003. Her works such as Yawkyawk Mother and Babies (2006) are a tour de force of exciting new shapes and textures. This work has a complex arrangement of mother and child mermaid spirit forms, infilled by concentric rings of dye-coloured weaving.
A standout in
Culture Warriors
is the Pintupi-speaking artist Doreen Reid Nakamarra. Working through Papunya Tula Artists she has settled on a new style of constructing her paintings from fine white and yellow dotting where the brush is not lifted from the surface so much as dragged between dots. Some works combine a zig-zag line with subtle changes of colour that create the illusion of shading. The resulting work creates the powerful optical effect of viewing a topographic landscape from above.
Untitled
(2007) is laid on the floor in the exhibition to let us experience the maze of parallel sandhills that are suddenly rising before us as the artist has found a new visual means of bringing the country of Kiwirrkura to life.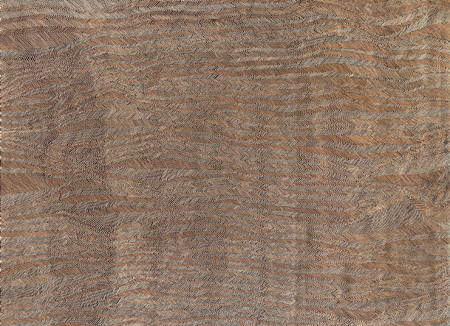 synthetic polymer paint on canvas
National Gallery of Australia
© Doreen Reid Nakamarra and Papunya Tula Artists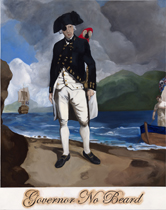 In the later rooms of Culture Warriors, the quality of work wavers considerably. There are some very well known artists included whose work, when compared to earlier examples, I would describe as mediocre. Other younger artists are required to carry the flag for their state although it is difficult in this company, but variation in quality is perhaps inevitable in a major survey. The best work in the last rooms confronts the viewer with Aboriginal and Torres Strait Islander experiences of racism and the backward steps in Indigenous affairs in the last decade. Brisbane artist Richard Bell's Palm Island (2006 )and Psalm Singing (2007) directly address his grief and anger at the death in custody of Cameron (Mulrundji) Doomadgee at Palm Island in 2004. Bell's Uz vs Them (2006) is a wickedly funny video installation that turns the tables on the use of racist language and posturing around race relations. Another Brisbane-based artist Gordon Hookey's 'underdawg' persona similarly triumphs over bigotry in the comic book imagery of A Painting for the Underdawg (2005) and FIGHT: To Survive; to Live; to Die! (2007). Daniel Boyd's witty recasting of eighteenth-century portraits reveal how painting is complicit in promulgating a heroic mythology of colonialism. His transformation of King George III, James Cook and Arthur Phillip into pirates evokes the death-dealing realities experienced on the other side of the colonial frontier.
In a quieter mood, Tasmanian photographer Ricky Maynard's photographs of relatives and sites on the islands of Bass Strait invoke the injustice of earlier land wars and the eventual removal of people to the exile of Wybalenna mission. Yet subtle works, such as Broken Heart (2007), pack an emotional punch no less effective than the works by other artists mentioned above. Julie Dowling's portraits similarly confront the viewer with the humanity of Aboriginal people caught in unjust circumstance.
Culture Warriors
includes films of artists speaking to their work on computer screens at the beginning of the exhibition and plenty of reading material to draw upon in each gallery. There is a substantial catalogue edited by senior curator Brenda Croft that pulls together a multitude of essays on these artists and sets a gold standard for documentation. The exhibition is massive in scope and was completed in remarkably quick time.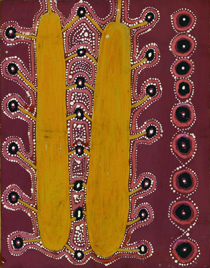 Papunya Painting: Out of the Desert
at the National Museum of Australia is a fantastic exhibition, inspired by the Museum's strong collection of Papunya Tula works from 1974 to 1981, donated by the Aboriginal Arts Board. The exhibition also contains works from other collections held by the Museum, notably the field research collection of paintings made by Fred Myers, and a number of artefact collections, including that of Olive Pink. The Museum has also recently purchased the work
Medicine Story
(1971) by Uta Uta Tjangala at auction, a work that relates to his much larger
Yumari
(1981) that is a centrepiece of the exhibition.
Effectively spanning a period of ten years, Papunya Painting can be compared with Papunya Tula: Genesis and Genius, held at the Art Gallery of New South Wales in 2000, which was more comprehensive in terms of the periods covered. However, Papunya Painting reveals the staggering power that can be developed in carefully crafted exhibitions that focus more closely on the minutiae of art developments.
The exhibition is organised around the periods of the different arts advisers who worked for Papunya Tula. There is Peter Fannin time 1972–75, Janet Wilson and Dick Kimber time 1975–77, John Kean time 1977–79 and Andrew Croker time 1980–81; these titles being a reference to the way the artists themselves describe the different phases of the organisation. There are aspects of the development of each phase that subtly relate to materials supplied to the artists and the advisers' differing personal philosophies of art management. A small theatre presents Ian Dunlop's film of a return to country trip undertaken by a number of artists in 1974. There is also a central area where children can produce artworks inspired by the works around them.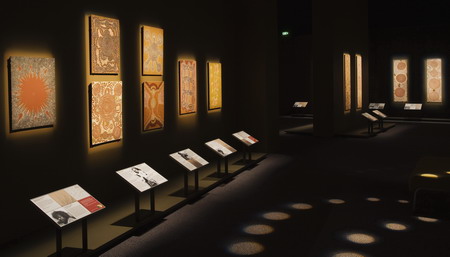 photograph by Lannon Harley
The whole space is darkened and the works are dramatically spotlit. The technique works here because it reduces the visual clutter of the interpretative materials and there is something about the lighting that makes each painting glow. A soundtrack of ceremonial singing adds to the aura. Each work is accompanied by an unobtrusive plaque that details the story for the work, a diagram to interpret the main elements, a map of the relevant sites, a photograph of the artist, and their biography.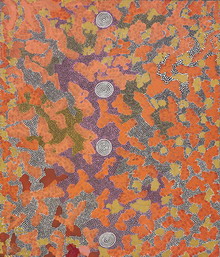 There are marvellous sight lines through the exhibition that draw one towards huge major works such as Uta Uta's Yumari (1981) or the intrigue of a pale love magic painting entitled Courting with a Nosepeg (1974) by Kaapa Tjampitjinpa, with its mixtures of pale pinks and Naples yellow. There is a great wall that marches with a succession of large canvases from 1975 by Dinny Nolan Tjampitjinpa, Long Jack Phillipus Tjakamarra, Tim Payungka Tjapangarti and Billy Stockman Tjapaltjarri. The works dazzle with clouds of fluorescent dotting. For example, Billy Stockman's Budgerigars in the Sandhills (1975) is constructed of beautiful hues of purple, orange, yellow, deep red and white against a black background. Against these energetic fields there is a corner that shows minute detail of black overdotting like the feathers of colourful budgies.
These are exciting early experiments in the use of colour and technique to build the structure of the work. In a couple of major works we see Tim Leura Tjapaltjarri experiment with different figurative forms. In a joint work with Billy Stockman Tjapaltjarri,
Life at Yuwa Dreaming
(1974), the ceremonial figures are shown as tiny figures on a journey between sites. The tracks of a multitude of other beings indicate their ceremonial partners. In
Trial by Fire
(1975), Tim Leura shows these ceremonial figures as ghostly shadows who weave in and out among strands of smoke. The shadowy beings are constructed from a grey wash of thin paint infilled with grey and brown dotting over a more formal representation of Ancestral sites. The different painted layers create complexity of reference in the work; a mixture of the corporeal and the timeless.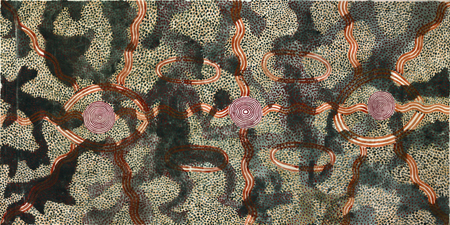 Arriving at John Kean time we are presented with massive paintings that include the fabulous
Punyurrpungkunya
1977 by Shorty Lungkarta Tjungurrayi. In the most recent of the paintings, Andrew Crocker continued encouragement of the massive theme with
Yumari
(1981) by Uta Uta Tjangala and
Tingarri Dreaming
(1981) by Charlie Tjapangarti. Scattered throughout the exhibition are photographs that let us see the genesis of these works in the red sands of Papunya and its surrounding outstations. In particular, the development of the 1981 work
Yumari
has been documented in detail by Vincent Megaw. A screen in the centre of the exhibition lets us witness the orchestration by Uta Uta Tjangala of the multiple artists who produced this painting.
There are many other more intimately scaled works. Johnny Warangkula Tjupurrula's 1974 paintings Mala and the Bad Uncles at Tjikarri (I) and (II) particularly reveal the artist's fastidious attention to building the narrative structure of the work through frameworks of sites and associated icons and the texture of the work through different layers of coloured dotting. It is often the disjunctive surprises, such as changes in dotting colour or changes in dotting technique and size, that keep the energy pumping out of these paintings.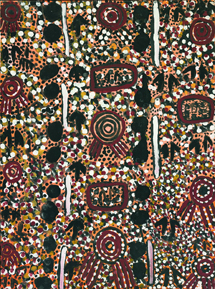 The exhibition as a whole builds a picture of the excitement of the artists in addressing a new scale for their commercial paintings, moving from the early, tiny boards to full-size lengths of Belgian linen, as advisers intervened to play an important facilitating and professional development role. For the artists, the new, large scale became something more akin to ceremonial expression. There is an intensity of experimentation in colouring and layering of dotted textures that indicates the powers of the subjects. This is aesthetic experimentation that leans towards an external art world audience at the time just before massive recognition set in.
Papunya Painting: Out of the Desert successfully melds ethnographic interpretation with the aesthetic experience of the art. Guest curator Vivien Johnson has strong knowledge of these artists and well understands these two sides of the exhibition coin. Ethnography or contemporary art? The answer is both! Johnson has also edited an excellent catalogue to accompany the exhibition. One is left in awe at the grandeur of the religious vista being shared so generously with us by these artists.
Luke Taylor is the deputy principal, research and information, at the Australian Institute of Aboriginal and Torres Strait Islander Studies.

Exhibition:

Culture Warriors

Institution:

National Gallery of Australia

Curatorial team:

Brenda Croft and Aboriginal and Torres Strait Islander Art section

Design:

Brenda Croft and Patrice Riboust

Venue/dates:

National Gallery of Australia, until 10 February 2008

Publication:

Culture Warriors, National Gallery of Australia, 2007. RRP $55.95
Exhibition:

Papunya Painting: Out of the Desert

Institution:

National Museum of Australia

Curatorial team:

Vivien Johnson and museum curatorial team Ian Coates, Mike Pickering, Nancy Michaelis and Peter Thorley

Design:

Thylacine Design and Project Management

Venue/dates:

National Museum of Australia, 27 November 2007 – 3 February 2008

Publication:

Papunya Painting, National Museum of Australia Press, 2007. RRP $34.95
« back :: next »