Exhibition reviews

Lovers of fashion, and lovers of Grace Kelly, will probably not be disappointed in this exhibition. But the most interesting thing about this exhibition is not the phenomenon of Grace Kelly per se, but the phenomenon of this Grace Kelly exhibition, in this venue, in this town, at this time.
---

We should be aware of our indebtedness to the central place Mesopotamia occupies in world history, not least because many of its achievements are germane to issues and themes that remain current and active in today's world. This review asks the question, 'Does this exhibition do justice to the diversity and high level of cultural attainment ascribed to this 'cradle of civilisation'?
---

Home Front
Wartime Sydney 1939-1945
review by Michael McKernan
The Second World War 'shaped, challenged and changed the lives of generations of Australians', this exhibition at the Museum of Sydney boldly announces at the entry to the exhibition. Note, not just one generation. A big claim, then. The test for any visitor will be to see if Home Front justifies that claim.
---

Travelling the Silk Road sets out to explore the cultural, social, technological and economic impact of the network of trading routes and exchanges that are termed under the umbrella, the Silk Road. Although this is rich food for exhibition development, it seems that the logistics and mechanisms of a travelling exhibition have overridden and compromised many exhibition considerations.
---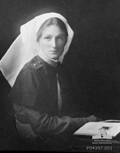 Nurses
From Zululand to Afghanistan
review by Janet Scarfe
Survey exhibitions such as this, which cover numerous conflicts, theatres and decades, present a real challenge to curators in terms of selection of material, themes depicted and subliminal messages conveyed. In reviewing them, it is tempting to focus on what has been left out rather than the impact of what has been included. And it is interesting to ponder on what the nurses themselves – the topic of this exhibition – would think.
---