The Melbourne Story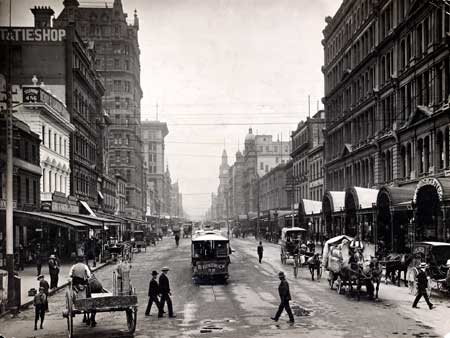 State Library of Victoria, La Trobe Picture Collection
A friend of mine had been visiting exhibitions about city histories around Australia. 'When I saw The Melbourne Story', she told me, 'I almost cried'. What on earth elicited such a response? Mostly relief, she said, and a flash of joy. Here at last she found an exhibition about an Australian city which is tied together by narrative: it actually tells a story of Melbourne.
Anthropologist Julie Marcus probably knows what my friend means. Marcus argues that the true genius of museums lies in the flash of understanding when something is explained. It makes them sexy in a way that displays of random, unconnected things-for-their-own-sake cannot, however beautiful or hi-tech the presentation.[1] So serious history, with which the city of Melbourne is so richly endowed, was evidently taken seriously here. It is treated as core business, harnessed for structure and interpretation, rather than being regarded with suspicion and avoided. Nor has this approach resulted in the dreaded 'book on the wall'. A cornucopia of things tell the story in ways words alone can never do, but it is history — broader historical narratives, insights, links, smaller contextual stories and yes, text — which unlocks them, and allows them to speak.
It is this narrative thread that makes it possible for visitors to engage meaningfully at many levels and in different ways with this exhibition — surely among the most difficult, yet essential, challenges museums face. Thus, as a historian of Sydney, I can be struck by both the divergences and surprising similarities between early Melbourne and its older cousin up north; I can also see the way the work of various historians, archaeologists and curators has been used. But I saw other visitors poring over the guns and exclaiming over the duels fought in Flagstaff Hill in the 1840s; parents earnestly explaining the overhead cistern and pull chain system of the toilets of Victorian Melbourne to their slightly disbelieving children. Visitors are offered an explanation of how such an extraordinary, yet familiar, thing as this city came into being, what shaped it, what it means to its citizens. For those wanting to pursue Melbourne's story further there is a lavish book, with a bibliography, to accompany a lively exhibition. The exhibition can also be visited online.[2]
The curators of The Melbourne Story have clearly wrestled with the deeper underlying questions facing all urban researchers: what is a city? How can such a diverse, ever-changing entity be portrayed, and explained in a finite space? One response evident in the exhibition is this: ordinary people are the city: the city is their stories. So The Melbourne Story is not so much about 'icons' but ordinary lives. It seems to have deliberately eschewed the easy path and the usual suspects, the famous and the clichéd: you will not find Chloe, the MCG, the 1956 Olympics, Menzies, Dame Edna, Leunig, or the Grand Prix. But you will find the big story in the shape of the Melbourne map, set at the heart of the exhibition. This is a quite extraordinary layered and multileveled lightbox, flickering and rippling with images, which summarises the city's physical expansion over time. Meanwhile, scattered throughout are the smaller, more intimate stories and images: sections of Melbourne's biggest family photograph album, to which Melburnians have contributed their favourite images. (As the exhibition explains, photography and Melbourne were born together.) A final film (or visitors could watch it at the beginning) opens with grunge rocker and actor Nick Cave talking about the city of his birth, followed by the reflections of other Melburnians, great, good and ordinary, accompanied by beautiful, fast-moving, triple-screened images. It does convey the essence and spirit of the place.
The curators of The Melbourne Story had the luxury of much of an entire floor with which to work — unlike, for example, the Museum of Sydney, where the galleries are relatively long and narrow, and broken up into separate spaces. The chronologically arranged sections are set in an arc, and they work well. Like the opening lines of a book that instantly make you want to keep reading, the view from the entrance is inviting: low-lit, kaleidoscopic, jewel-like. The exhibition is fairly clearly signposted by decades and historical phases, although the large chestnut horse in a glass case on your left draws you over irresistibly, before all else ('Look! His ears did twitch!'). No matter. Not far from Phar Lap's crystal coffin, we come upon the beginnings of Melbourne.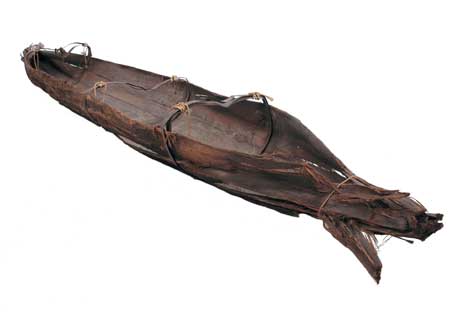 photograph by Ben Healley
Museum Victoria
The prior occupation of this area by the peoples of the Kulin nation, and the early encounters and co-existence of settlers and Aborigines, are dealt with by naming early Melbourne a 'meeting place' rather than an 'invaded place'. Like most such accounts, this section does seem rather hurried. John Batman's strange treaty with the Kulin is here, firmly described as 'meaningless to the Aborigines', together with an even more astonishing artefact: a canoe made of mountain ash, collected in the 1850s from Studley Park on the Yarra River. (This canoe looks much like those made by the Eora people in Sydney. I had never seen one, I was transfixed.) Both are hybrid artefacts, the treaty, supposedly marked with the signs of Kulin elders, exchanging 500,000 acres of land for 'a few household goods'; the canoe is bound with iron hoops. But before we can ponder the negotiations and cultural crossovers that must have occurred, 177 settlers and 26,000 sheep arrive and Melbourne is born. Although the Aboriginal people 'barter goods and artefacts, the impact is devastating'. The Kulin exit from exhibition and are not seen again until William Barak appears fighting for Aboriginal Coranderrk in the 1870s and 1880s. It was devastating for the Kulin; nevertheless, there is room for a deeper, less peremptory story here, the one suggested by these artefacts. Robert Kenny has re-examined the Batman Treaty and suggests that the Kulin were knowing participants, hoping to contain British settlement. And as in Sydney, Aboriginal people did not disappear from the young town at all, but became part of it.[
3
]
Melbourne's early history tends to be seen as a kind of 'prehistory', the time before gold changed everything, in the same way that Sydney before the arrival of Governor Macquarie is considered primitive and insignificant, simply marking time, awaiting the great man. Of course both were in fact lively, energetic and economically dynamic places in these early years. And although Melbourne is so often depicted as planned and orderly, as opposed to Sydney's convictism and disorder, I was struck and fascinated by their similarities — the same raffish, boisterous pre-industrial culture, the same duelling to satisfy manly honour, the same unmade tracks. This should not be surprising: after all they were founded by the same sorts of people. Melbourne's grid made no difference to the early social fabric, and was for many years more imaginary than real.

Early Melbourne is well represented by some wonderful foundational artefacts — the first printing press, belonging to John Batman's rival founder, John Pascoe Faulkner, and his handwritten first edition of the Melbourne Advertiser. Captions are appropriately frank: 'Hotels and beer played an important role in the council's beginning'. A photograph of surveyor Robert Hoddle shows him looking rather uncertain, and a copy of his celebrated plan of March 1837 reveals the grid tilted to run along the Yarra. The tension between these early Melburnians and the authorities in Sydney, who first declared them trespassers and then attempted to control them with grid, courthouse and lockup, is clear. It doesn't quite gel with some of the rather more staid settler material culture displayed nearby, though I suppose these are the sorts of items likely to survive and make their way into museum collections. The Scottish regalia and kilt belonging to Dugald McPherson is fabulous, but how common would such finery have been among the settlers of Port Phillip? What would have been the material culture of the convicts who fetched up here, who, we are told, made up half the male population by 1850? What did newcomers learn from the local environment and people?

The discovery of gold in 1851 is the overarching theme of the following section. The historical role of gold is almost biblical, separating the old Melbourne from the new. Evidently Melburnians were acutely aware of this right from the start. A marvellous three-dimensional model of the gold diggings at Daisy Hill, made in the late 1850s by Frederick McCoy, the director of the museum, testifies to this early history-mindedness, and the impulse to record and commemorate. It is also a neat way to introduce the museum itself into the exhibition. But the gold rushes are not presented in a simplistic way, as the straightforward bringer of wealth and people. Against the replica of a giant gold nugget (a clutch of small boys were giggling over it: 'a chicken nugget', one exclaims in glee), there is also the 'edgier history of gold' of historians David Goodman and Graeme Davison, telling of social upheaval and urban dysfunction, of the canvas town that sprang up on the outskirts of Melbourne.[4] Strangely, the painting The Mount Alexander Road, Flemington does not identify the long line of hopeful diggers as Chinese.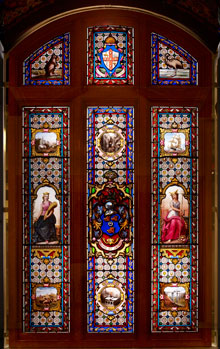 photograph by Ben Healley
Museum Victoria
The exhibition then explores the decades of 'Marvellous Melbourne', rising on the golden tide, and falling, or rather crashing, in the 1890s depression, and it does it marvellously. Although I found the use of specimens from the museum's older natural history collection sat a little oddly with the section on the founding of the city's great institutions (including the museum itself, which is the link) and representative government, on the whole this section is so successful in conveying the colour, speed and excitement of Victorian modernity which found such perfect expression in Melbourne. A lively, riotous popular culture continued in the theatres and in horseracing. Modern trams and fast clipper ships connect Melbourne with its rapidly expanding self and with the world. A section on building rightly displays material Melbourne, with James Ferguson's spectacular stained-glass window boasting of the wealth and status of Melbourne's nouveaux riches. But there are humbler artefacts too: bricks, plaster, iron work fancy and plain, and the ranks of aforementioned toilets. Most delightful is the recreation of the Coles book arcade, with its wonderful advertising gimmicks. The curators are right: these are the places, well-loved, well-remembered, which tell us of the spirit of the city. There is of course also the connection to Melbourne's many bookshops today.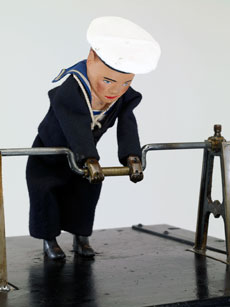 photograph by Rodney Stewart
Museum Victoria
Beyond all this frantic hammering and sawing, all this truly conspicuous consumption, lie other Melbourne stories, of late nineteenth-century struggle and protest — the United Ironworkers Union, and Bessie Harris Lee for Temperance, with a map of Liquor Shops of Melbourne she had in her sights. (Surprisingly, though, there is no mention of first-wave feminists, who fought so hard for women's rights). I am not sure that the story of Coranderrk, the place Melbourne's Aboriginal people made for themselves after their final expulsion from Melbourne, and which was also eventually taken from them, really belongs here. It is presented rather briefly, and the implication is that their struggle for country and survival was on par with those of the urban unionists and temperance activists.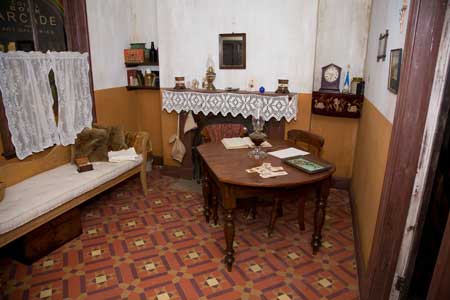 photograph by John Broomfield
Museum Victoria
Right at the back, hidden behind the glories of stained glass and stucco, stand two small weatherboard cottages, so convincing they take one's breath away. Here the extensive research carried out for Melbourne's Little Lon Archaeological project over the past two decades has been, once more, taken seriously. To my mind this is one of the triumphs of this exhibition, light years ahead of the usual approach of putting archaeological artefacts, grouped by type, in glass cases with simplistic labels such as 'People smoked clay pipes'. A meticulous integration of archaeology, artefacts, historical documents, photographs and oral history has informed the set designers who recreated the domestic conditions of Melbourne's poor and working class people. The houses invite exploration of the other, darker side of Marvellous Melbourne, yet so much care has gone into avoiding the homogenising slum narrative. One cottage is presented as more comfortable than the other, and both are finished and furnished with the utmost care: the paintwork in acidic eau-de-nil, aged and layered; the board floors, dirty walls, and cracked ceiling with lathes showing through; the prints on wall, an enamel pot on the fireplace, kitchenware on shelves lined with fancy-cut newspaper, some glass, silverplate and willowpattern on tables and in dressers; the scent of wax and carbolic in the air. Every detail is based not on imaginative conjecture, but on what is known about Little Lon. The cottages are also humanised with the true stories and voices of the people who lived in those long-lost original houses and visited them. As someone who was closely involved with the Cumberland Gloucester Street Archaeological project in the Rocks, I am rather envious: as yet there is nothing approaching this level of interpretation in Sydney.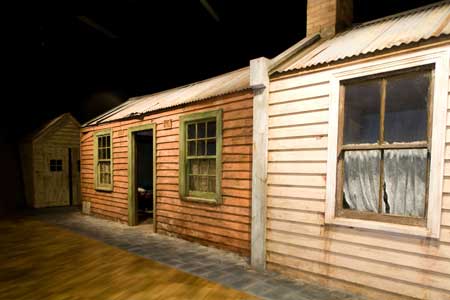 photograph by John Broomfield
Museum Victoria
Visitor responses, inevitably, differ widely. Some people charged through, stopping only to photograph one another smiling between the greying washing on the backyard lines. Others seemed incoherent with astonishment, uttering exclamations of surprise as they enter, the words failing, trailing: 'Oh! It's REALLY ...', 'It seems to be ...'. It's the realism, it seems to delight people, take them aback. 'Whose house is this?' they say aloud to no-one in particular. One fundamental lesson is simply: this is how people used to live, for what was once commonplace is now so foreign and strange. A child calls excitedly: 'Come and see the big cheese grater!' (it's a washboard). There was obviously a curatorial concern here with accusations of being 'too authentic', of carrying the deception of verisimilitude too far, so the iron beds are surreally cut down to fit the space against the museum's rear wall, and a black wall slices eerily through the room space. I know why this has been done, but I think it simply confused other visitors, who, I believe, knew quite well that they were in a museum in 2008, and not in Little Lonsdale Street in 1900.
The presentation of the twentieth century, in sections titled 'Melbourne and the nation 1900–1920', 'Electric City 1920–1945', 'Suburban City 1945–1980', 'Changing City 1980–Present', tends to fuse Melbourne's particular urban story with the development of the nation, world events, and processes that occurred in cities worldwide. It also tries to cover an enormous amount of material and the effect is somewhat more staccato and scattered. A strength is the inclusion of popular culture (with the marvellous Luna Park ride), the lifeblood of any city, although it was surprising to see Australian Rules football relegated to one small corner — perhaps a deliberate playing down? Rock aficionados might quibble about some of the appropriations here. Yes, bands Skyhooks and GoSet were definitely Melbourne's, but AC/DC originated in Sydney, they just happened to be filmed performing on the back of a truck in Swanston Street. Compressing protests, festivals, celebration, commemoration and the Beatles under the rubric of 'public spaces and streets' does get people thinking about urban spaces, but tends to flatten out (and defuse) the meanings of these events.

It is a big exhibition and towards the end, when we explore Melbourne's twentieth-century suburbs, the curators have thoughtfully provided a replica 1960s lounge room, where you can flop on the lounge and watch bits of Homicide and The Graham Kennedy Show on the television. Nearby there's a reminder of a kitchen, with its neat, colourful canisters and handsome heavy Mixmaster. But on the wall is an unforgettable image of the external reality of so many post-war suburbs: muddy roads, quagmires and people trying to negotiate them. You can listen to the stories of four couples (including a charming gay male couple) who made new lives in these places. This is another high point in the exhibition, for it avoids the pitfalls of satire, clichés, kitsch and sentimentality which so often bedevil portrayals of suburbs, capturing instead something of the intimacy and emotional meanings of our most common urban landscapes.

It is fairly rare for Australian museums to present urban history at all, let alone both seriously and engagingly and with such obvious intellectual investment. This absence is puzzling, given the fact that Australia has always had among the highest rates of urbanisation in the world. Why aren't more museums presenting the stories of our cities? This exhibition offers all sorts of models for other Australian museums to explore the urban story, which is also a national story.
Grace Karskens is a senior lecturer in the School of History and Philosophy at the University of New South Wales.
1 Julie Marcus, 'Erotics and the Museum of Sydney', in A Dark Smudge Upon the Sand: Essays on Race, Guilt and the National Consciousness, LhR Press, Sydney, 1999, pp. 37–50.
2The museum's exhibition website is at: http://museumvictoria.com.au/melbournemuseum/whatson/current-exhibitions/melbournestory/virtual-exhibition/.
3 Richard Broome, Aboriginal Victorians: A History since 1800, Allen & Unwin, Sydney, 2005, Chapter 2; Robert Kenny, 'Tricks or treats? A case for Kulin knowing in Batman's treaty', History Australia, vol. 5, no. 2, 2008, 38.1 to 38.14.
4 See David Goodman, 'Making an edgier history of gold', and Graeme Davison, 'Gold-rush Melbourne', in Iain McCalman, Alexander Cook & Andrew Reeves (eds), Gold: Forgotten Histories and Lost Objects of Australia, Cambridge University Press, Cambridge, 2001, pp. 23–36, 52–66.
Institution:
Melbourne Museum
Exhibition:
The Melbourne Story
Curatorial Team:
Deb Tout-Smith (lead curator) in consultation with 14 other curators
Exhibition space:
1200 square metres

Venue/dates:

Melbourne Museum, Melbourne, ongoing
Publication:
Melbourne: A City of Stories, Deb Tout-Smith et al., Museum Victoria, A$39.95