Commentary

The global challenge of climate change
Reflections from Australian and Nordic museums
by Libby Robin
Describing changes to Earth's system over time demands understanding of the history of the biophysical factors, the human factors and their integration. There are, more than ever before, common interests between historians and non-historians, to think globally about history, and to integrate ideas across very different scales. Museums are well positioned to take up this challenge. So far, the story of 'living with climate change' has yet to be told comprehensively in any museum, but the most successful and interesting exhibitions feature local material that can cast new light on the global story. And to be a 'sustainable' exhibition, there needs to be fluidity and flexibility as the science and human stories are still unfolding.
read the paper
about the author
---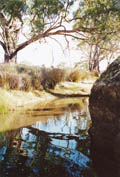 The Waterhole Project
Museums and climate change
by George Main
The Waterhole Project investigates the global problem of anthropogenic climate change from a grounded perspective of place and materiality. In this curatorial research project, cultural and historical dimensions of this pressing and often overwhelming issue are explored in relation to a local place, Combaning, a productive agricultural district in southern New South Wales. By honouring and enabling encounters with the material particularities of places and their objects, museums and other cultural institutions can foster ways of knowing that undermine problematic systems of knowledge and enable useful responses to the crisis of climate change.
read the paper
about the author
---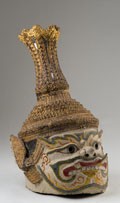 Images of the National Museum of Lao
by George Serras
Australian museums have a long record of developing productive mutual relationships with kindred institutions in the Asia-Pacific region. The National Museum of Australia has also developed contacts that have resulted in a valuable project with the Luang Prabang National Museum of Lao in 2011, the initiative of National Museum of Australia photographer George Serras.